This article is more than 1 year old
LG taps TSMC to bake its first-ever mobile chip
Joins Apple, Samsung in ARM chipmaking party with Nuclun
South Korea's LG Electronics has announced its first self-made mobile system-on-chip (SoC), along with plans to debut the chip in a new smartphone to be released within the week.
Nuclun (LG says it's pronounced "NOO-klun," somewhat like how Americans pronounce "nuclear") is an eight-core application processor based on ARM's big.LITTLE technology. It marries four 1.5GHz Cortex-A15 cores with four 1.2GHz Cortex-A7 cores, plus next-generation LTE-A Cat 6 wireless that's backward-compatible with current LTE networks.
From the sound of it, LG doesn't plan to market these chips to other phone makers. Instead, it will use Nuclun as a way to cut costs and deliver devices that are better differentiated from the competition. Previously, LG has mostly sourced SoCs for its mobes from Qualcomm – as do many other vendors.
"With this in-house solution, we will be able to achieve better vertical integration and further diversity our product strategy against stronger competition," Jong-seok Park, CEO of LG's Mobile Communications Company, said in a canned statement. "Nuclun will give us greater flexibility in our mobile strategy going forward."
This is the first time that LG has created its own processor since it divested its earlier chipmaking business during the Asian financial crisis of the 1990s. Behind the scenes, LG is reportedly working with Taiwan Semiconductor Manufacturing Company to fab the chips, as the Korean firm has no production facilities of its own.
According to a report in the Wall Street Journal, LG has been collaborating with TSMC for the last few months to develop Nuclun.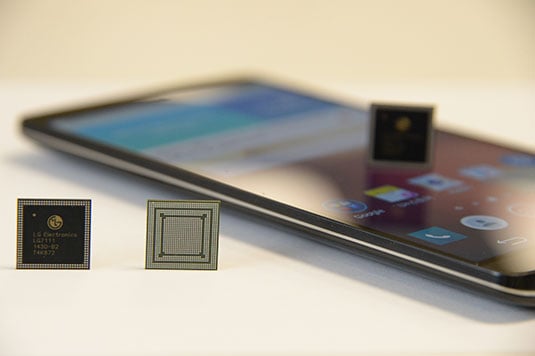 LG says its new Nuclun mobile chips will give its smartphone line greater diversity
The move sees LG joining Apple and Samsung in creating its own silicon for its mobile devices – although Samsung, at least, is not exclusive to its homebrewed Exynos line and still sources processors from several other vendors, as will LG.
The Korean firm says the first phone to be built around Nuclun is the G3 Screen, an Android 4.4 "KitKat" device that's based on the popular LG G3, with a 5.9-inch full HD screen, 2GB of RAM, 32GB of eMMC storage, a 13-megapixel front camera, and a 2.1-megapixel rear camera.
LG says the G3 Screen will ship "this week," but there's a catch: it will only be available in South Korea, having been "developed specifically" for the Korean market. ®