This article is more than 1 year old
Sporty in all but name: Peugeot 308 e-THP 110
Car of the Year? Arguably. Engine of the Year? Indubitably
A touch too much
As is the case with most modern cars, the EU consumption figures you see on the windscreen sticker do rather flatter to deceive. Over the course of a week and nigh on 600 miles I managed 45.4mpg from the Peugeot 308. That was over a mix of motorway, urban and open A road driving, with me working the engine hard. I'm pretty confident that it is a number a little below that which most owners can expect.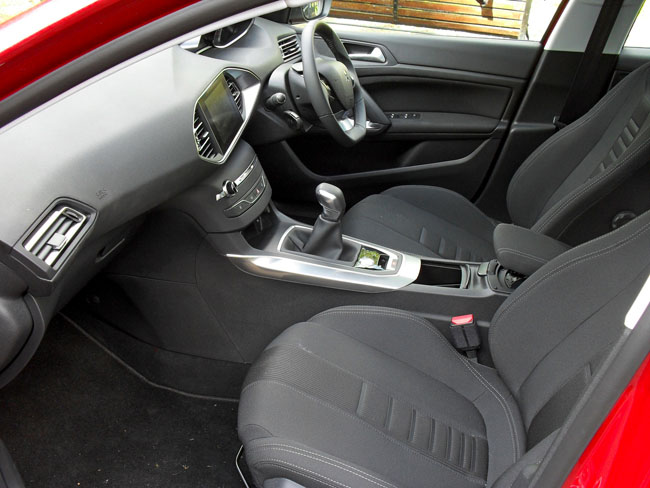 The cabin appears very Germanic but also very well made
Inside the 308, Peugeot's recent efforts to up its game with regard to build quality are clearly in evidence. VW/Audi-like is the best way to describe it. Yes, it's a bit dark and sombre thanks to Peugeot's cabin designers grasping Germanicism to their Gallic bosom with unquestioning vigour. From the switchgear to the seats to peripheral gubbins like the sun visors and glove box lid (which is way too small incidentally), it all feels well made and like it will last.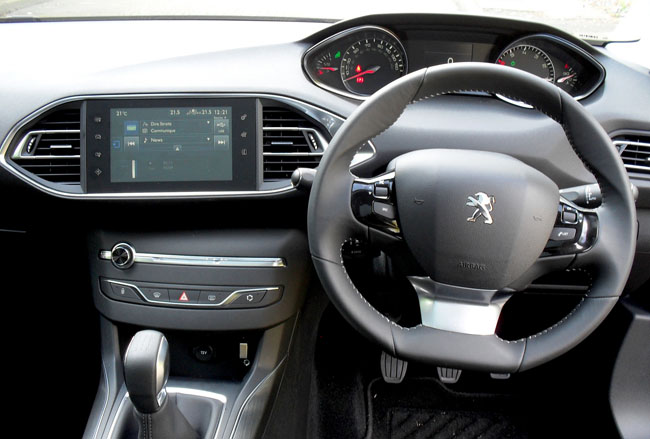 The 9.7-inch touchscreen display does pretty much everything
The Peugeot 308's dashboard is unusually spartan due to all the major controls being housed on the 9.7-inch capacitive touchscreen that dominates the centre console. I'd say that Peugeot has gone a little too far with this. For instance, to change the temperature or the fan settings, you need to bring up the relevant display and use the touch controls rather than just turn a big old knob from blue to red or one with various fan settings painted around it. You don't need to take your eyes off the road to use knobs, you do to use a touch screen. Such is progress.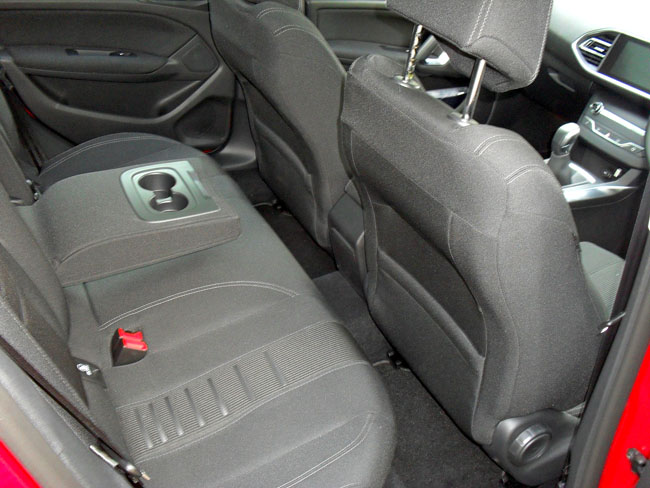 Supportive seats up front and sufficient rear leg room will fit five in total comfortably
One design feature I was thoroughly impressed to see carried over from the 208 is the small, low-slung steering wheel, with the instrument binnacle visible over the top of it. This isn't a layout that is being received with universal approval by the motoring press but I like it. A lot. It makes the entire driving experience that much more intimate and focused.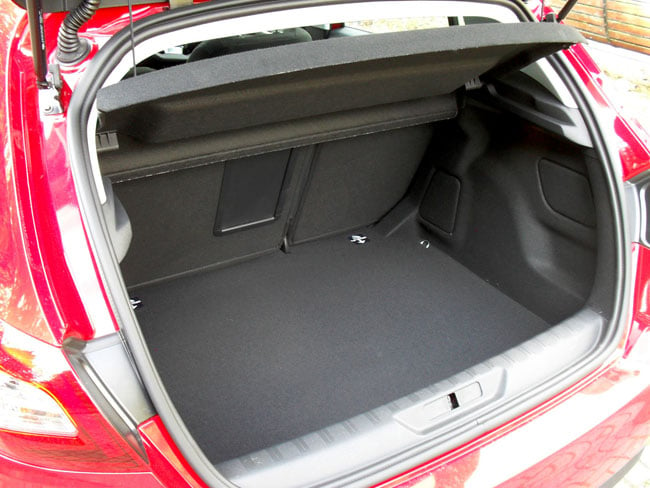 A decent sized boot and, of course, the back seats fold down for more
The 308 e-THP is no hot hatch (a 202bhp GT model will be with us shortly) but wedge your backside into the comfortable yet supportive seats and it all feels far more sporty than you'd expect from a five-door family hatch.