EMC wolfs down cloudy upstart Maginatics, swallows 'protection' too
Spanning acquisition buys bouncer for its clouds
EMC is buying cloud storage gateway software biz Maginatics, as predicted, but also plans to buy startup Spanning, which makes cloud-to-cloud data protection technology.
Maginatics is heading for EMC's Core Technology Division and the background about its products and capabilities can be read here.
Spanning is based in Austin, Texas. Here's a quick intro to Spanning from CrunchBase:
Founded in 2010 by Charlie Wood
$3m A-round in April, 211 from Foundry Grou
$6m B-round from Foundry Group or a strategic investor in March 2013
Provides enterprise-class data protection services to SMBs or Google Apps and Salesforce.com with AWS as the backup target
EMC and Mozy parter with Spanning to market and sell each others services and products
Netflix, Jawbone and Redfin become three of Spanning's 2,500 customers
Jeff Erramouspe became its CEO and president in November 2013.
Spanning says it provides full data recovery for the complete Google Apps suite: Gmail, Drive, Sites, Calendar and Contacts with its Spanning Backup product.
EMC's Russ Stockdale, a vice president for Backup Recovery Systems at EMC, blogs that Spanning delivers protection for "born in the cloud" apps which are "becoming more commonplace within the workplace, and the critical data they create is often beyond the reach of traditional data protection strategies. Spanning is available for EMC customers today."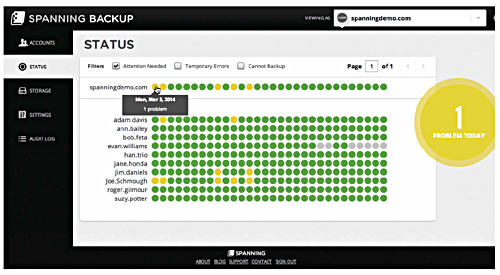 Spanning Google Apps status screenshot
As for Maginatics: "By providing a single protection namespace in the cloud – and a separate, single metadata DB across clouds – Maginatics enables EMC customers to extend their data protection architecture to the cloud with unified management and analytics across all protected content, regardless of whether it resides on-premise or in the cloud."
Stockdale adds: "It will also enable our customers to choose the storage cloud that best fits their needs, or choose multiple clouds based on their applications and geography with a single, unified protection management environment. Look for new EMC services based on Maginatics technology in 2015."
Will EMC integrate Maginatics and Spanning with its other data protection products? Watch this space.
How much did EMC pay for these two companies? We'd guess-timate up to $50m for Spanning and up to $100m for Maginatics. We'll update if we get a solid number. ®