This article is more than 1 year old
HDS flings cloud-in-a-box at EMC Vblock, NetApp FlexPod
Still plenty of room in the converged on-premise game
HDS has started competing with EMC Vblocks and NetApp Flexpods with an offering its own managed, on-premises cloud-in-a-box.
It has converged its server, storage and networking products into a Vblock-like product - Hblocks anyone? - and is using it for a managed on-prem cloud service, at a stroke providing across-the-board EMC/VCE and FlexPod alternatives.
The Hitachi Unified Compute Platform (HUCP) provides single system order numbers (SKUs) for a wide range of configuration, with UCPs for vSphere, Microsoft Private Cloud, SQL Server, SAP HANA with both scale-up and scale-out versions, and for Oracle Database (RAC and single instance versions.
We're told "The entire stack – Hitachi server, Hitachi storage, IP and SAN network are pre-integrated by HDS. The network switches can be either Brocade or Cisco. HDS also offers VMware vSphere, Microsoft Hyper-V and the SAP HANA platform licenses. All other application software is sourced by customers directly from the vendor or through their partners."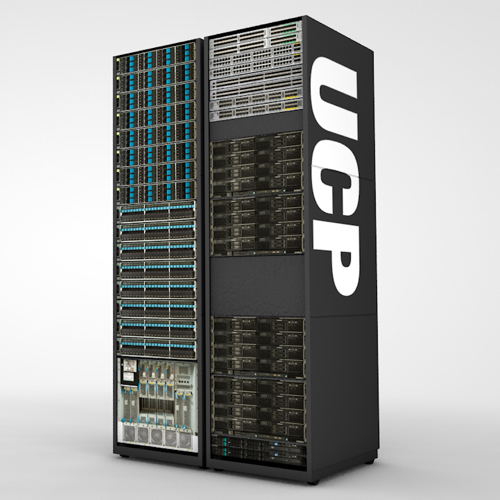 USCP for VMware vSphere with VSP G1000
Cisco UCS server-based reference architectures (USP Select) are also available, providing alternatives to EMC's VSPEX and NetApp's Flexpods. The UCS servers are sourced from channel partners and two Select offerings are available – UCP Select for VMware vSphere and UCP Select for Oracle. These are Cisco Validated Designs (CVD).
HDS says: "The order process is streamlined via the use of quote templates for each solution; internal HDS sales/presales and partners can access these templates for simplified ordering in our Insight ordering system."
El Reg was also told that: "Solutions can be configured with different storage, server and networking options to support small, medium and large configurations. They can also be configured to meet different performance and capacity requirements. UCP converged systems can support applications that run on hypervisor or bare metal OS like Windows and Linux.
"These solutions also include UCP Director software for infrastructure orchestration. It is natively embedded into VMware vCenter or Microsoft SystemCenter offering a single pane for automating a number of operations across virtual and physical environment. Product configuration specifications for VMware and Microsoft solutions are included in their respective solution profiles documents provided."
Storage and other components
All UCP solutions include Hitachi's storage portfolio:
Hitachi Unified Storage (HUS) family
Hitachi Unified Storage VM (HUS VM)
Hitachi Virtual Storage Platform (VSP)
Hitachi Virtual Storage Platform G1000 (VSP G100)
Hitachi NAS Platform
Here is a component table for a scale-up SAP HANA UCP offering:
Component table for Scale-up SAP HANA UCP configurations
In the UCP SAP HANA scale-up case, there can be from two to 16 nodes and the storage can be HUS VM and VSP G1000.
Hitachi provides adaptors with UCP for Oracle for integration with Oracle Enterprise Manager Cloud Control, RMAN and Oracle VM. Specifications for UCP for Oracle include: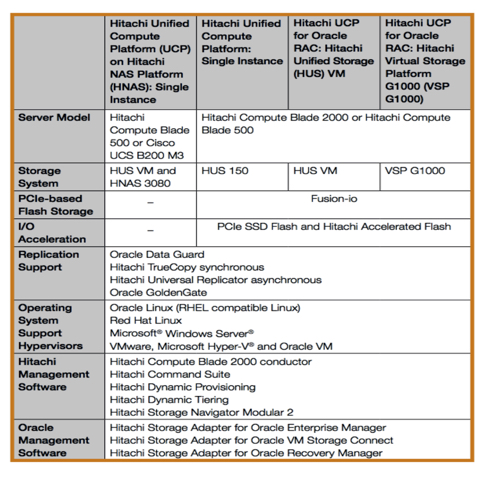 HDS UCP for Oracle components table
For networking, HDS said: "We utilise both Brocade and Cisco as networking components. UCP can be configured with either Cisco Nexus 5548 or Brocade VDX 6740 for TOR IP networking and Brocade 6510 for SAN connectivity to storage in multi-rack configurations."
HDS told us: "New single-rack models [are] planned for release in December 2014, known as UCP 4000E (entry system configuration for UCP for VMware vSphere and for UCP for Microsoft Private Cloud) integrates the Cisco Nexus 5548 with OSM license to provide converged networking FCoE connectivity."
Servers
HDS said the server UCP components "are dependent upon the individual solution/application and performance required". The Hitachi servers include:
Hitachi Compute Blade 500 is a rack mount server and supports standard width and double wide server blades with different number of sockets and memory configurations. The standard width blades are employed with UCP for VMware vSphere and UCP for Microsoft Private Cloud). The double width blades are used with UCP for SAP HANA systems.
Hitachi Compute Blade 2000 used for highest performance converged systems with UCP for Oracle Database or Microsoft SQL Server.
Hitachi Compute Rack 210 are rack mount servers are used to pre-install and run software such as UCP Director, VMware vCenter, Microsoft SystemCenter, Windows 2012 OS and element managers for storage, switches and servers.
Hitachi Compute Rack 220 is also used in small configurations of UCP for Microsoft SQL Server.
Software
H-UCP supports VMware vSphere 5.1 and later, and Microsoft Hyper-V 2012 R2 and later.
Hitachi's LPAR feature is also certified with SAP HANA: "LPAR (Logical Partition) provides HW-based server virtualization at the firmware level for secure multi-tenancy and server consolidation for OSs and applications that don't run on SW-based virtualization. Server hardware resources are divided into multiple partitions, which appear as independent "bare metal" servers that result in increased utilisation and reduced costs. With the ability to logically partition the server, multiple SAP HANA-based workloads can run on a single system with minimal impact to application performance."
Up to 30 LPARs can be configured in each Hitachi server blade.
Comparison to Vblocks, Flexpods and hyper-converged systems
HDS made these claims about its product/offering in comparison to its rivals information in response to questions.
VCE Vblock: Hitachi UCP systems offer significant capability for automating number of infrastructure operations and true native integration into VMware vCenter and Microsoft SystemCenter. The UCP Director software is also integrated with all element managers as opposed to a collection of silo'ed point products that were bundled together, to provide all-in-one management solution. The total cost of implementation and ownership of UCP versus Vblock is substantially lower for customers.
Simplivity hyper-converged systems and Nutanix hyper converged systems: The UCP systems are designed for enterprise class applications and support optimization for a wide range of workloads. It offers best-of-breed servers that support unique features like LPARS and SMP that lower cost for customers while delivering high performance and reliability. The storage systems support both flash and disk drives for meeting specific application performance needs and can scale easily from small to large configurations.
VMware EVO: RAIL converged systems. For all three of the above, our UCP solutions are converged systems, offering greater economy of scales and also scaling to considerably larger environments for large data centres. Our best-of-breed enterprise-class hardware components, including legendary reliability of Hitachi storage and servers, also gives our customers peace of mind that they will be able to run their traditional mission critical tier-1 applications on Hitachi UCP platform, and not just Tier-2, VDI, and Test/Dev. Hitachi recently announced [an] agreement with VMware to license its EVO: Rail software for deployment of UCP for EVO: RAIL. These solutions will be targeted for branch or remote offices and will be managed by UCP Director. This solution complements other UCP solutions that are intended of core data centres.
Cisco/NetApp FlexPods: UCP solutions pre-configured systems with UCP Director software, the most advanced automation for orchestration of server, network and storage from within vCenter or SystemCenter. FlexPod solutions are reference architectures similar to Hitachi UCP Select with Cisco UCS which are assembled by authorized distributors. UCP solutions offer [the] industry's most reliable, enterprise class storage systems and the only X86 server blades with features such as LPAR (logical partitioning) and SMP normally [found] in mainframes and certain RISC systems ...  We also offer choices in networking configuration, with Brocade and Cisco networking.
Cloud-in-a-box service
The H-UCP offerings form the base of a separate managed cloud-in-a-box service, Hitachi Cloud – Compute as a Service (HC-CaaS), a managed private cloud offering claimed to deliver the economics and agility of a public cloud solution with the security and lower risk of an on-premises system.
Basically, you get a UCP on-site but pay for it via a quality of service and usage model rather than upfront.
HDS claims: "This model aligns costs to predictable outcomes and relies on Hitachi UCP for compute, network, storage and hypervisor functions within a customer's premises to create a fully-manageable and secure compute platform behind the firewall. Hitachi Cloud – Compute as a Service addresses individual service-level requirements by including flexibility to align costs with the dynamic requirements of the business."
It can be customised to include off-premise capabilities through HDS' partnership with Equinix. HDS also has a cloud service provider programme to create "a network of CSPs that offer cloud services that are "Powered by Hitachi Data Systems".
Comment
All in all, this is a major trio of announcements by HDS and fairly typical of the company in some ways. It's not first to the converged systems and managed cloud services market, but has waited for things to settle down and then come in with a comprehensive and wide-reaching set of offerings.
Competitors will no doubt just say it's late and this is a catch-up trio of announcements. There may well be truth in that, but HDS' customer base should be receptive to the news and provide a fertile response to its own and its channel sales reps knocking on their doors.
Hitachi UCP offerings are generally available now. Prices vary based on the configuration and services required. HDS said: "The cost is typically similar to the amount customers will see when they buy all the components of non-converged systems. The only additional cost is for the UCP Director software and for specific professional services required by customer. HDS does not add a surcharge for integrating the systems into a converged stack unlike some competitive systems." ®