iPad Air 2: Vulture chews on new Apple tablet
Air to the tablet throne?
---
Review This year's update to Apple's full-size iPad looks like a minor one. With headline changes like a Touch ID sensor, a faster processor, and a further reduction in thickness and weight, it is tempting to write off the mods as a little window dressing to raise the iPad's profile in time for the winter sales fest.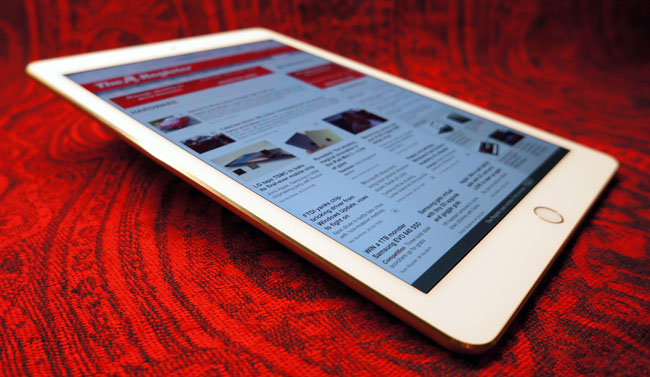 Welcome to the world of tablet pr0n: Apple's iPad Air 2 laid bare
Dig below the surface and we find deeper changes to the 9.7-inch iPad that provide a tangible benefit to the general user, as well as some tasty mods to excite the interest of tech followers.
Maybe it was peer pressure from Google slabs like the Sony Z3 and Samsung Galaxy Tab S4 that encouraged Apple to pare another millimetre or so from the already slim 7.5mm-thin first-gen iPad Air. Or it could be just part of Cupertino's drive toward nothingness in the Z dimension, starting with the MacBook Air and its manilla-envelope debut in 2008.
To get trim, the iPad Air 2 had to burn off a little of its energy reserves. Specifically, the 32.4Whr lithium-polymer battery of the first iPad Air has been reduced by nearly 19 per cent in capacity, now down at 27.3Whr which no doubt plays a part in the drop in weight by around 21 grams.

Slim fast tablets
It might get away with the smaller battery thanks to a more power efficient SoC processor, dubbed the Apple A8X, which sees a significant process downsize from 28nm to 20nm. Dissection reports suggest this X-rated model – which made its debut in this season's iPhone 6, is now manufactured for Apple by TSMC, dodging one dependency on Samsung's semiconductor division.
The performance of this Apple A8X processor is way ahead of the A7 used in the first iPad Air. Using the Geekbench 3 benchmark tool to gauge speed, we see single-core figures of around 1815 points, 22 per cent ahead of the 1485 points from the old A7. And multi-core numbers leap from around 2685 to 4515 points – a staggering 68 per cent faster in this test of a processor's integer and floating-point performance and memory speed.
It achieves this through a combination of increased clock speed, now 1.5 GHz instead of 1.4 GHz, but more significantly by adding a whole extra processor core to become a tri-core rather than dual-core system. Meanwhile, L2 cache has doubled to 2MB; as has overall system RAM, sited off the main SoC and now at an Apple high of 2GB.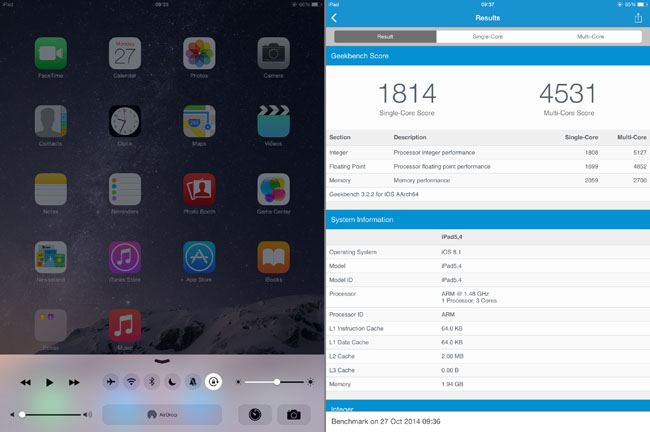 Easy access to services from a pop-up drawer and Geekbench results – click for a larger image
The same A8X system-on-a-chip has an uprated graphics engine. A PowerVR Series 6XT GX6450 quad-core GPU replaces a PowerVR G6430, leading Apple to boast of 2.5 times the graphics performance. And our results just in from GFXBench give an idea of the pace at with which the A8X can push pixels.
Focusing at on-screen rendering on the quad-XGA (2048 x 1536-pixel) display, the T-Rex test romped along at 23.0 fps last year. New iPad Air 2 plays the same OpenGL ES 2.0 test at 52.5 fps, giving us a 2.28x speed-up.