This article is more than 1 year old
Storage array giants can use Azure to evacuate their back ends
Site Recovery can help to move snapshots around
Azure is now helping SAN owners to move snapshots captured on devices provided by EMC, NetApp, HP and Hitachi Data Systems.
Microsoft already offers share 'n' sync for virtual machines under the "Azure Site Recovery" (ASR) service.
At TechEd in Barcelona this week, Microsoft revealed ASR will soon gain the ability to hook into arrays using the SMI-S spec, with the result that SANs capable of taking snapshots of themselves will be helped to move those snapshots to their on-premises brethren.
You'll need System Center Virtual Machine Manager (SCVMM) to make this new feature work. EMC (VNX and VMAX Symmetrix) and NetApp (Clustered Data ONTAP 8.2) are on board, with HDS and HP (3Par) ready to join the party, which will see Azure act as a control plan to drive the arrays' replication process.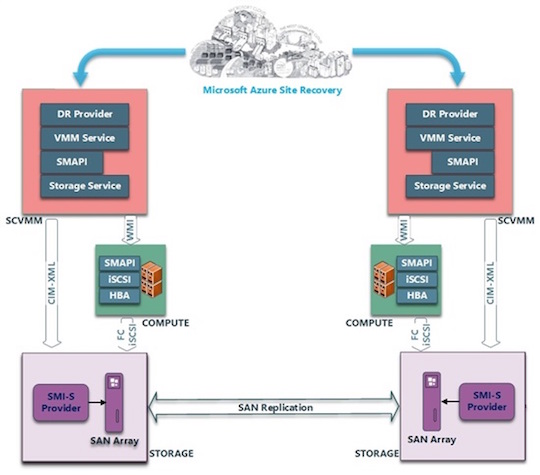 Your data goes THERE. Somewhere
Microsoft's calling the rig above "end-to-end storage array-based replication and disaster recovery", and is putting its money where its mouth by claiming to offer a "Self-Service Disaster Recovery model that enables full support for DR drills via test failover, planned failover that guarantees zero data loss, unplanned failover, and failback – All DR actions are assured to be accurate, and consistent and are designed to help you meet your Recovery Time Objective (RTO) goals."
Unless, of course, Azure goes titsup. (Which it hardly ever does.)
Microsoft is clearly deadly serious about Azure as a disaster recovery service, no matter what data it is protecting. At US$54 per instance, per month, it looks to be a decent business to be in. And a business vendors of backup hardware and software will need to keep a close eye on.
Such vendors have a short window in which to get their thinking done: the SAN snapshotting service is currently in preview, with details to come in a few weeks according to Microsoft's entirely spontaneous announcement post. ®