This article is more than 1 year old
KRAKKOOOM! Space Station supply mission in PODULE PRANG EXPLOSION CHAOS
Orbital says 'vehicle anomaly' to blame
Pics+Vid Orbital Sciences just can't seem to catch a break. Monday's launch of its Antares rocket was scrubbed by a rogue sailboat and on Tuesday the rocket exploded just seconds after launching from NASA's Wallops Flight Facility in Virginia.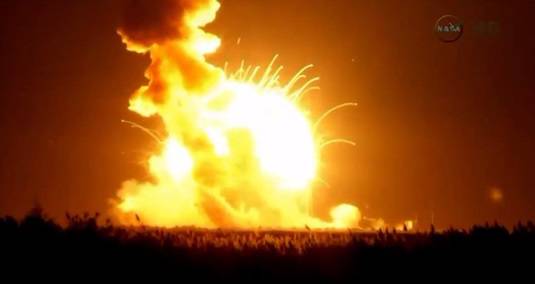 There has been a vehicle anomaly. We will update as soon as we are able.

— Orbital Sciences (@OrbitalSciences) October 28, 2014
The rocket, which was carrying new supplies for the astronauts in the International Space Station, lifted off from the launch pad at 6:22pm EDT and all seemed to be going well for the first few seconds. Then there appeared to be a small explosion at the base of the rocket and the vehicle plummeted back down to earth before exploding.
The launch was the Antares' first use of Orbital's upgraded Castor 30XL second-stage rocket motor, but it seems unlikely that this was the problem, since the rocket would still be at a first-stage burn so early into the flight.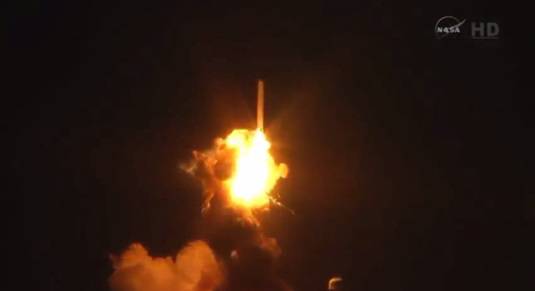 "That doesn't look right..."
"We've all seen this happen before and we've seen teams come back from this before," Frank Culbertson, general manager of Orbital Sciences, was heard to say on NASA TV. "Don't talk to the press. Don't speculate even amongst yourselves – keep it in the family."
So far, all personnel are accounted for and no one appears to have been injured. There will be a pretty high pollution count from all that fuel burning out, though, and flames could still be seen rising from the launch pad for more than an hour as the rocket continued to burn.
The Antares rocket was developed with an eye to joining SpaceX in resupplying the ISS in the long term, and there have been four successful liftoffs before Tuesday's "vehicle anomaly" – or as NASA is calling it (slightly more accurately), a "catastrophic failure."
The launch team is now going over the telemetry for the launch to find out what went wrong and has said a statement will be issued shortly. NASA, too, is working on a statement, and a joint press conference has been scheduled for 8:30pm EDT.
In the meantime, the share price for Orbital Science (whose tagline is "innovation you can count on") is taking a beating. The New York Stock Exchange closed before the launch but the firm's stock has plummeted in after-hours trading – down more than 15 per cent, as of this writing.
But the failure isn't just bad news for the company itself. It's much, much worse for those researchers and scientists who had cargo aboard the rocket. Some of these experiments have taken years to devise, obtain funding for, get accepted for the mission, and then package for orbital transfer. All that effort is now destroyed.
The rocket was carrying 2,290 kilograms of science experiments, basic supplies, spare parts, and new hardware for the ISS when it exploded. The astronauts aboard the space station won't be going hungry, however, since NASA has a policy of maintaining enough essentials on board to cover two resupply mission failures. ®