Entry requirements
In fact, the DoorLine Pro can do quite a few more things. Some are perhaps fripperies – like the ability to change the colour of the LED lighting on the wavy strip on the front panel – while others are more useful. For instance, there are two built in relays, and you can link one to a built-in PIR that could turn on lights or maybe trigger a video recorder. Or you could configure one relay for the door opening, and another to unlock the shed for parcels. The relay can work in tandem with the bell button to ring a traditional door bell if desired.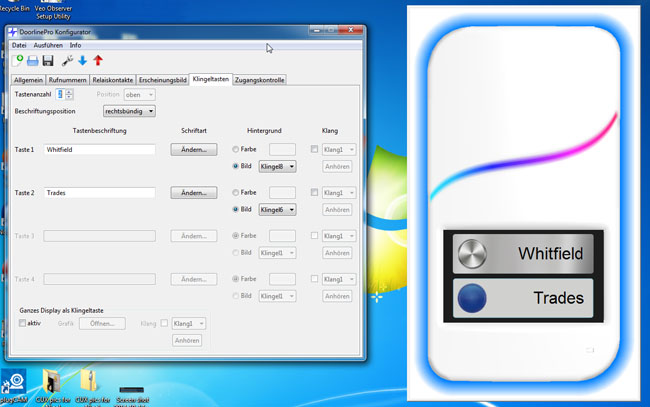 The Windows app allows you to configure buttons, colours and the behaviour of the relays in the DoorLine Pro – click for a larger image
There's a PC application too – also only in German for now – which can be used to configure all the settings, via Bluetooth and download graphical button designs. You could even have a family portrait or company logo on the screen, if you wish.
Access control is catered for too – a swipe across the screen from the other side reveals a number pad. Enter the correct code and the door will unlock. My one gripe here is that there's just one code supported. You can't, for example, create an extra temporary one for weekend visitors. It's not cheap, either, at €769.
The final frontier
For a lot of people, that's probably a bit on the pricey side. That said, the Doorline Pro can be linked up to four flats, which makes the cost per dwelling a little more acceptable. You won't be spending money on dedicated handsets for each flat, either. Still, it's a shame that there aren't more affordable products in this area: when you can buy a Wi-Fi Skype phone for £50 it should surely be possible.
So, how about rolling your own system? With a suitable RFID shield for Arduino, it's possible to read the unique ID of many NFC-equipped cards. So, for example, your Oyster card could be used to open the front door.
A Raspberry Pi with a camera module plus a bell button on its GPIO pins could give you the basis of your own video entry system, too.
Yet so far, amongst the current glut of home monitoring and automation products, the humble doorbell has been largely been ignored and about the only entry-related devices I've seen are door contacts using BTLE. You don't have to restrict yourself to entry systems, either. If you want a little more inspiration for front-of-house projects, check out this automated letterbox.
Is the front door a frontier too far for home automation? Are current products, like the Doorline Pro, just too expensive? And what DIY gadgetry would you knock up to replace your knocker? ®