Mobile operator EE has announced that higher speed LTE-A is now available in select areas. This will give speeds of up to 150Mbps.
While EE has had "double speed" LTE for some while and Vodafone has recently launched a similar service, the new LTE-A uses a lot more spectrum and so gives much higher speeds. Specifically it is aggregating 20MHz of 1800MHz and 20MHz of 2.6GHz spectrum. The 150Mbps speed is half that first cited by EE CEO Olaf Swantee last March but is still much faster than any of its rivals.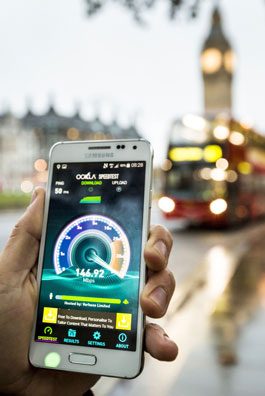 The new 2.6GHz spectrum that forms the second layer of the new network technology is now live on around 150 sites across London and EE expects to triple that number by the end of the year.
EE is calling the new service 4G+ and validates this name by citing other networks using the same moniker.
"On top of our existing 1800MHz spectrum layer, we've added a layer of 2.6GHz spectrum and configured our network to enable downlink carrier aggregation. This is the primary feature of LTE-Advanced – and we're calling it 4G+. Some of Europe's other top operators, like Swisscom, SFR and Bouygues, as well as Optus in Australia, are already using the term 4G+ for this first stage of carrier aggregation."
The network explains how its new service differs from other networks' carrier aggregation deployments by explaining that Optus has used two 20MHz blocks of 2.3GHz. SFR, like Vodafone, is combining 10MHz of 800MHz with 20MHz of 2.6GHz.
EE, like Swisscom, is aggregating 20MHz of 1800MHz spectrum and 20Mhz of 2.6GHz spectrum. EE is planning three carrier aggregations that will deliver the 300Mbps speeds and will demo this at Wembley Stadium in early 2015.
To use the new service, customers will need CAT6 devices that support the right frequencies and aggregation. That means the Samsung Note 4 and Samsung Alpha. EE specifically singles out Apple products as not working on the new service, but points out that the extra spectrum is good for everyone, even if they can't aggregate.
EE says that "peak speeds of 150Mbps will be available in central London, with a 4G+ device, on a 4GEE Extra plan. EE expects users to regularly be able to see speeds up to 90Mbps to a smartphone – faster than almost all fibre services in the UK."
The service has been in beta test near Vulture Central around Silicon Roundabout for some time and will roll out from the centre to cover Greater London by April 2015. Birmingham, Manchester and Liverpool are next on the list. ®
Similar topics