This article is more than 1 year old
Pixel mania: Apple 27-inch iMac with 5K Retina display
Cupertino computer in value for money shocker
Review It's kind of ironic really, that the most expensive, over-the-top version of the iMac ever released should actually turn out to be pretty good value for money.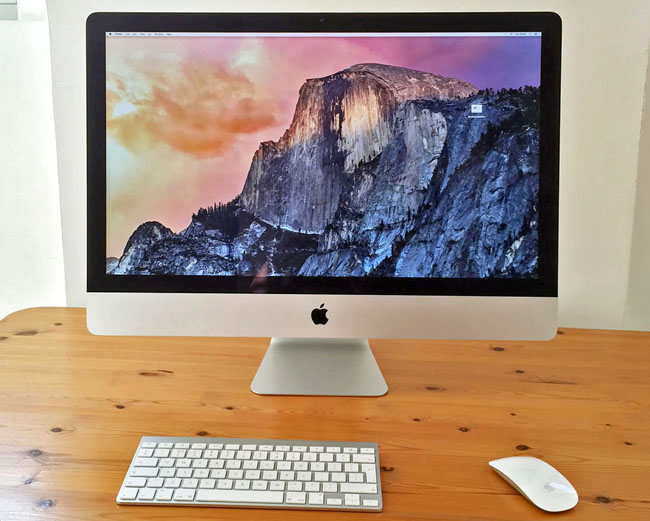 Costs on a par with a 5K monitor: Apple's iMac with 5K Retina display
The so-called "entry level" iMac launched a few months ago may start at (what is for Apple) a relatively affordable £899, but it barely offers the performance of a budget laptop. In contrast, the new iMac with Retina 5K Display starts at a pocket-punishing £1,999, but it provides stronger performance than any previous iMac model – along with a display that none of its Windows rivals can currently match in an all-in-one package.
Indeed, the 5K Retina display is the big draw here and boasts an eye-popping resolution of no less than 5120 x 2880 pixels. That's a total of 14.7 million pixels, equivalent to four times the resolution of the previous 27-inch iMac models and way beyond the 8.3 million pixels of a 4K display.
Apple will happily regale you with the technical details of the Retina Display's design, such as the custom TCON – time controller – that it developed to keep all those pixels in sync, and the "compensation film" that ensures consistent contrast across the entire display. The bottom line, though, is that the 5K Retina display really is superb.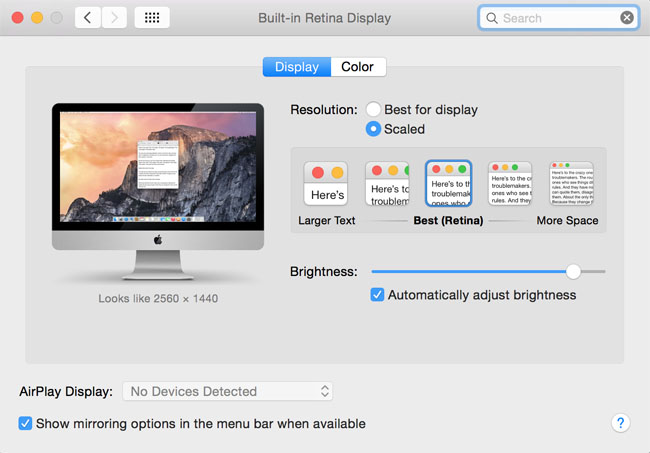 Scaling options: examples make it easy to work out the best viewing choice
My office iMac is one of the standard 27-inch models with 2560 x 1440 resolution, and the difference between the two was immediately and visibly obvious. The image on the 5K iMac is brighter and sharper, with richer colours and excellent contrast. The simple photography that I need to do for reviews such as this really doesn't require a 5K display, but I'll miss it when it goes back to our friendly dealer and I return to working on my older iMac.
Like the Retina-equipped MacBook Pro, the 5K iMac provides a number of "looks like" scaling options for the screen that adjust the size of text and graphics to mimic lower resolution displays. By default, this is set to "look like" 2560x1440 – the same as my office iMac – so I found it perfectly comfortable to work with.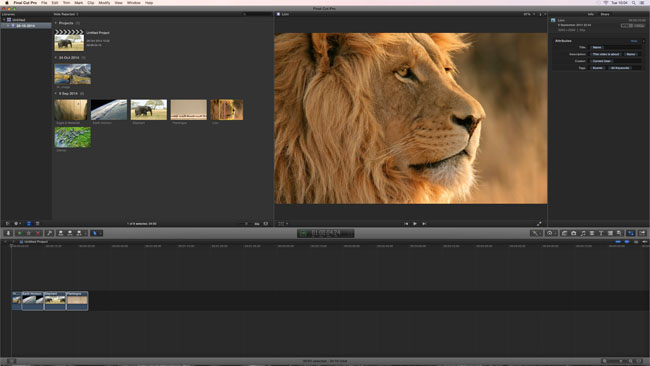 Screen real estate on Final Cut Pro X – click for a larger image
Applications such as the Final Cut Pro video editor didn't force me to squint in order to view toolbars and menus properly. And, of course, the logic behind the 5K display is that it allows you to view 4K video at full-size while still leaving an extra 1K chunk of pixels for the toolbars and controls of Final Cut Pro and other high-end editing tools.