This article is more than 1 year old
Pixel mania: Apple 27-inch iMac with 5K Retina display
Cupertino computer in value for money shocker
Missed the target
But Apple giveth, and Apple taketh away. Obviously aware that a 5K display at this price will be tempting for many professional users, Apple has disabled the target-display mode that would have allowed you to plug a Mac Pro – or even the new Mac Mini – into the iMac's display in order to save money on buying an expensive 4K display.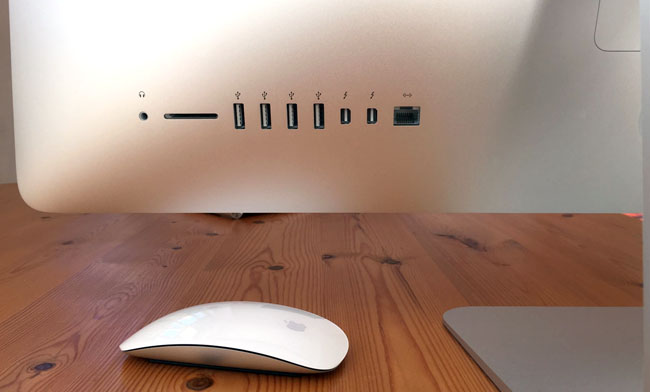 Two Thunderbolt 2 ports but no option for target display mode
Pricing comparisons are a bit tricky as the iMac's 5K display is currently unmatched by any of Apple's PC rivals. The 5K display recently announced by Dell is expected to sell for around $2,500 (approx £1,800 inc VAT) when it ships at the end of this year. But that price is for the display alone, so Apple could dangle an old ZX Spectrum off the back of the Retina Display and still boast about its value for money.
Fortunately, the 5K iMac offers considerably more performance than a ZX Spectrum. Prices start at £1,999 for a model with an Intel 3.5GHz quad-core i5-4690 CPU with 8GB of RAM and a 1TB Fusion drive – Apple's term for its hybrid HDD/SSD combo.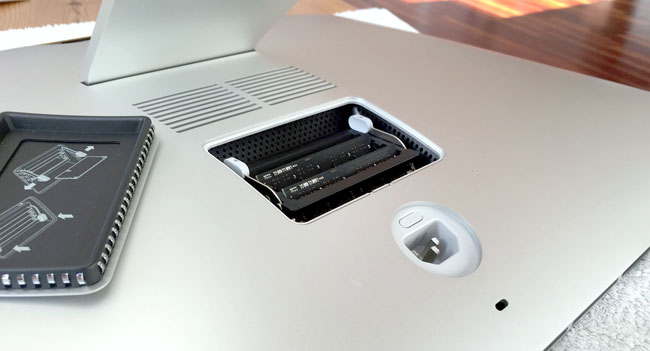 The 27-inch iMacs have always had a back panel cover for memory upgrades
That processor speed is only slightly faster than the 3.2GHz of the non-Retina iMac that is still on sale for £1,499, and a quick spin with GeekBench confirmed that its raw processor performance is only about 10 per cent higher. However, the Fusion drive and the inclusion of a Radeon R9 M290X graphics card give it a real performance boost in other areas.
The conventional hard drive used by the non-Retina version of the iMac could only manage read and write speeds of around 180MB/s when running the BlackMagic disk test. However, the Fusion drive of the 5K iMac was able to manage a read speed of 710MB/s and write speed of 315MB/s.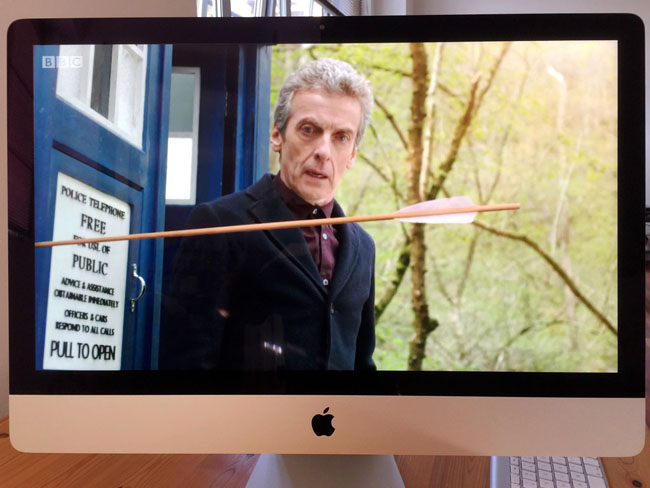 Impressive picture and ready for 4K Netflix too
Graphics performance is considerably stronger too. When running the Mac-native version of Batman: Arkham City, the 5K iMac was able to hit 55fps even at 2560 x 1440 resolution with all graphics options on their highest settings.
By contrast, the non-Retina iMac could only manage 31fps, which makes the 5K iMac around 77 per cent faster on 3D graphics performance. The Mac Pro that we reviewed earlier this year managed 67fps on the same test, but that costs £2,499 without a monitor, so the 5K iMac certainly provides a better all-round combination of price and performance.