This article is more than 1 year old
Pixel mania: Apple 27-inch iMac with 5K Retina display
Cupertino computer in value for money shocker
Viewing Windows
For Apple Boot Camp aficionados, we also installed Windows 7 and fired up the PCMark 7 and 8 benchtests. The former test wasn't impressed by the Fusion drive, producing a distinctly mid-range score of 3,500 points. However, the PCMark 8 Creative Suite focuses more on video and graphics work, where the Radeon graphics card helped it to achieve a very respectable score of 5195.
The Boot Camp installation was painless, and the only oddity we noticed when running Windows 7 on the iMac was that the Windows display was limited to 4K resolution of 3840 x 2160. Discussions on Apple's support forums suggest that this is a limitation of AMD's video drivers, but we doubt that Apple will be losing any sleep over that.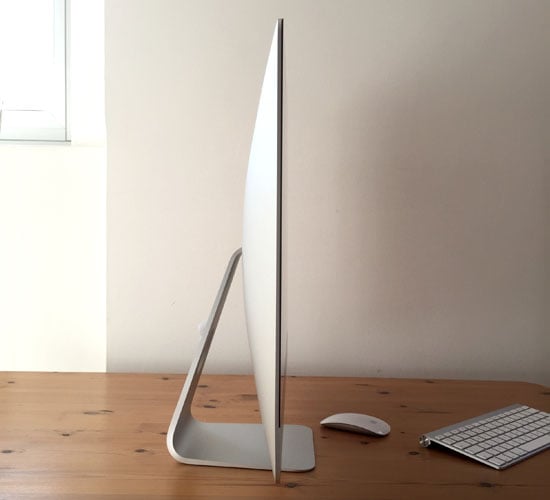 Still the same curves
The 5K iMac doesn't offer the same range of configurations and upgrade options as previous models, but you can upgrade the £1,999 base model to an Intel quad-core 4GHz Core i7-4790 processor for a further £200, while a Radeon R9 M295X also adds another £200.
Unlike other recent Apple updates, the 27-inch iMac models do still allow you to upgrade the memory yourself, so you can avoid expensive Apple Store upgrades such as £160 for an extra 8GB of memory. The intrepid souls at iFixit were able to dismantle the entire unit in order to reach the Fusion drive, but that's most definitely not a task for the faint-hearted.
Less nerve-wracking but more expensive, the Apple Store will allow you to increase the Fusion drive to 3TB for £120, or swap the standard 1TB Fusion drive for 256GB of Flash storage. It turns out that that option doesn't cost anything extra. Sure, it will give a boost to overall performance, but if you're planning on keeping the Mac for a while, 256GB will soon feel rather small for multimedia projects.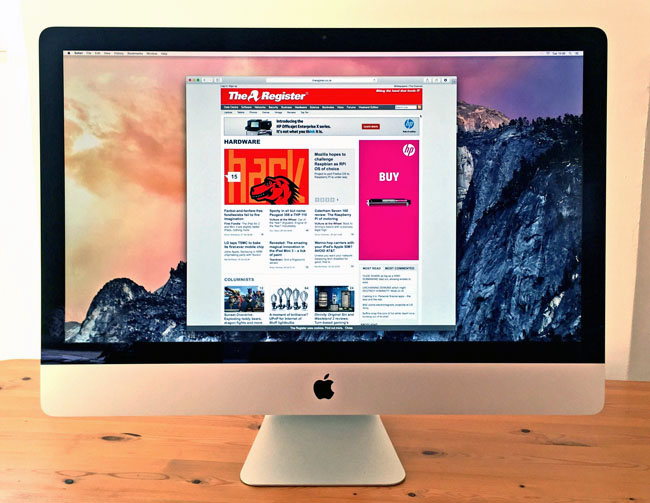 Plenty of screen real estate for web browsing and more
Lest we forget, the 5K iMac now includes two Thunderbolt 2.0 ports, so you can add high-speed Thunderbolt drives for maximum performance but for a price, or simply use one of the four USB 3.0 ports to add cheaper storage options.
The Reg Verdict
It's certainly not the home computer that it used to be, but the iMac with Retina 5K Display will have designers, photographers and video-editors chomping at the bit. Most of them won't actually need the 5K display and will be able to work perfectly well with the non-Retina iMac models that are still on sale.
However, an all-in-one machine that offers a 5K display and high-end graphics workstation for £2K is a mouth-watering temptation. And, just for once, your accounts department won't be able to point at a cheaper PC alternative. ®
Thanks to Jigsaw24 for the loan of the iMac 5K Retina display.

Pixel mania: Apple 27-inch iMac with 5K Retina display
Touting a 27-inch 5120 x 2880-pixel display, a quad-core Intel Core-i5 4690 CPU, 8GB RAM, 1TB Fusion drive and an AMD Radeon R9 M290X 2GB GPU.
Price:
£1999 (Intel Core i5 with Fusion drive) RRP