This article is more than 1 year old
Virgin's SpaceShipTwo crashes in Mojave Desert during test flight
One pilot dead, the other seriously injured
Updated Richard Branson's commercial space company Virgin Galactic suffered a serious setback on Friday when a test flight of its SpaceShipTwo aircraft crashed during the testing of its rocket motor.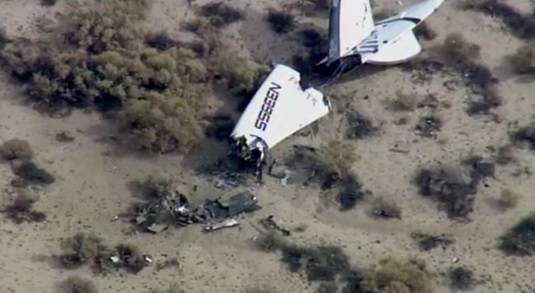 This doesn't look good
"Virgin Galactic's partner Scaled Composites conducted a powered test flight of SpaceShipTwo earlier today. During the test, the vehicle suffered a serious anomaly resulting in the loss of the vehicle," Virgin Galactic said in a statement.
"Our first concern is the status of the pilots, which is unknown at this time. We will work closely with the relevant authorities to determine the cause of the accident and provide updates as soon as we are able to do so."
Police and fire crews have been dispatched to the crash site and, based on live television coverage, it appears that the pilots ejected, since what looks like a parachute has been spotted on the ground. The aircraft wreckage is spread over a relatively wide area, indicating the aircraft broke up in flight.
In a series of tweets, the company said that the WhiteKnightTwo spacecraft, which carries SpaceShipTwo to launch altitude, landed safely. The company said that it will work with the authorities on an investigation but its first concern is to locate the two pilots.
The SpaceShipTwo vehicle uses a solid-fuel rocket to boost itself into low earth orbit before gliding back down to Earth. In May, the design of the rocket was changed and successful test burns of a new thermoplastic polyamide fuel were completed.
It has been a terrible week for commercial space companies. On Tuesday, Orbital Sciences was forced to destroy an unmanned Antares rocket, losing all cargo, after it suffered a catastrophic engine failure seconds after launch.
El Reg is crossing fingers and toes that the pilots managed to eject safely and will be recovered safely. ®
Update
The California Highway Patrol has confirmed that one of the pilot has been recovered alive and has been airlifted to a local hospital. The other pilot has perished in the accident.