This article is more than 1 year old
Tales of infiltration from Fight Club man Chuck Palahniuk, Peter Carey and Anonymous
The first rule of fiction is DO talk about fiction
Page File El Reg bookworm Mark Diston leafs his way through the latest in literature and finds more transgressional fiction from Chuck Palahniuk, this time focused on stimulating experiences for womankind. Covert ops in cyberspace from Anonymous et al are tackled in Gabriella Coleman's account of past and present events and two-time Booker Prize winner Peter Carey puts a fictional spin on similar activities.
Beautiful You
Chuck Palahniuk is the author of 15 novels over a career that began in 1996 with Fight Club, which was made into a film in 1999 starring Brad Pitt, Edward Norton and Helena Bonham Carter, as you've never seen her before.
Beautiful You is set in New York City and is based around the experiences of Penny Harrigan, a low-level gopher in a law firm. Penny's life is turned upside down when she encounters Cornelius Linus Maxwell (AKA Max, the richest man in the world) who recruits her to research a new product line he is developing called Beautiful You.
The new product line consists of a series of sex toys which take women higher and further than ever before.
Penny's sex life until that moment has been underwhelming. Here's her take on the mating game:
"The truth was that most men only knew one dance step, usually the pogo – and between the sheets they were like a monkey in a nature film poking an anthill with a stick."
Max is a scientist rather than a lover, but still manages to reduce Penny to a drooling orgasmic heap. Penny's life is transformed, yet once the Beautiful You range is ready for sale, Penny and Max part company.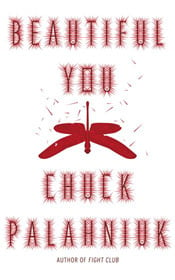 Women are literally driven crazy by Beautiful You, leaving homes, work and families behind in the continual search for pleasure. After warnings from Max's ex-partners and a strange incident when a would-be rapist seriously injures his tool whilst attempting to penetrate her, Penny realises that Max's motives are very shady indeed – and with the nation's women converted into demented pleasureheads, society is disintegrating.
Penny makes a pilgrimage to the Himalayas in search of Baba Gray-Beard, the mystic witch who taught Max his erotic expertise:
"The cave where the mystic dwelt was littered with the skeletons of men and women she had sexed to death, their bones frozen in Kama Sutric positions of unbearable erotic contortions."
Penny absorbs the old mystic's esoteric knowledge and returns to NYC to do battle with Max who has graduated from sexologist into a megalomaniac bent on world domination:
"Through Beautiful You I've successfully implanted nanobots in 98.7 per cent of adult women in the industrialised world... this isn't about boys versus girls. This is about power."
And then there's the final denouement where all is revealed: "I know the reason Maxwell stole the sensual secrets of the ancients, I know why he has wagered his lifetime to gain access to the world's best vaginas!"
There are a few twists in the tale as all becomes apparent.
Beautiful You is an old-fashioned sexual farce updated to the modern age. It is part Sex and the City and part Story of O all tech'd up with no place to go. It is a satire on the modern obsessions of celebrity, sex and power and very NYC, almost American Psycho with its pointless designer namedrops.
No two characters orgasm simultaneously in this book – while it might appear a wank mag on a grand scale, it's not that sexy.
On a basic level Chuck Palahniuk is a proficient and amusing teller of tall tales, yet this work leaves an unsatisfying aftertaste, somewhat like cocaine or saccharine. I couldn't help but feeling a little amour triste at the end, as if my life should be better spent than reading Beautiful You as, for all its inventiveness, it does feel like a tale that's been told before.

Author
Chuck Palahniuk
Title
Beautiful You
Publisher
Jonathan Cape
Price
£16.99 (Hardback), £8.49 (eBook), on sale 6th November
More info
Publication web site