This article is more than 1 year old
Tales of infiltration from Fight Club man Chuck Palahniuk, Peter Carey and Anonymous
The first rule of fiction is DO talk about fiction
Amnesia
Peter Carey is an Australian writer and two-time winner of the Booker Prize. Amnesia is his thirteenth novel. The first thing to say regarding Peter Carey is don't be put off by his Booker Prizes, which seem to have become a badge of mediocrity in recent years. Carey is much better than the usual suspects.
Amnesia is the story of two generations of Australian activists as told by Felix Moore, ex-student radical and left wing journalist. Amnesia opens with all the jails in Australia and many in the US being opened by hackers using the "Angel Worm".
Felix Moore is being sued for defamation in a Melbourne court. He loses and accidentally torches his house, leading to estrangement from his family. Felix's bail is paid by the Machiavellian éminence grise Woody Townes, but there are conditions attached. Felix is to write a biography of Gabrielle Bailliaux, one of the authors of the Angel Worm, who is facing extradition to the US.
As source material, Felix is given audio tapes recorded by both Gabrielle and her mother. What follows is the story of 1970s student radicals, including Gabrielle's parents, Celine and Sandy, who Felix had first met at Monash University.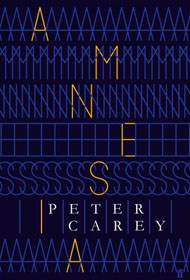 The parallel story of Gabrielle's hippy upbringing and youthful radicalisation in the early 1990s is segued into the narrative.
The first noticeable thing about Amnesia is its Aussiecentricism. The US and UK counterculture have been documented countless times, but the only familiar Aussie radicals are London expats. It is therefore very easy to see a little of John Pilger in Felix and a little of Julian Assange in Gabrielle and her campy, vampy boyfriend: Frederic.
The dialogue is full of mate-isms and some colourful local terms of abuse such as "Boofhead" and other choice antipodean terminology: "He bawled like a heifer in a barbed wire fence."
Peter Carey is also a fine admirer of his female characters:
"She was handsome with high cheekbones and the jawline of a heroine. All this was eroticised by her narrowed eyes, which in their present puffy state, suggested very bad behaviour."
How about this sublime little line: "Her hair was like dry grass where animals have slept." Overall, though, Carey keeps the poetic flights to a minimum.
Amnesia is not what you could call an exciting read, but it is certainly intriguing, drawing the reader in. The characters of the younger generation are beautifully drawn, the relationship between Gabrielle and Frederic is touching, if unfeasibly nerdy in places: "Writing software is so intensely pleasurable, it should be banned."
Felix wryly observes that his generation's enemy was the state, whereas the younger generation's are the multinationals. He is sequestered away by Woody Townes' henchmen in remote locations, his copy is stolen and edited by invisible hands. Needless to say, the denouement contains a few twists as all becomes apparent.
Carey is undoubtedly a master craftsman; almost banal on the surface, he is a writer of hidden depths. Amnesia is unlikely to appeal to the young, but I can recommend it to mature readers who enjoy naturalistic, genre-free novels with an understated style. ®

Author
Peter Carey
Title
Amnesia
Publisher
Faber and Faber
Price
£18.99 (Hardback)
More info
Publication web site