LaCie Little Big Disk Thunderbolt 2 – dual SSD sizzler
The world's fastest portable storage, apparently
---
Box clever?
Inside LaCie's Little Big Disk Thunderbolt 2 drive are two Samsung XP941 512GB PCIe-based M.2 2280 SSDs. The performance figures for Samsung's XP941 series [PDF] is a peak read of up to 1170MB/s and peak write of up to 930MB/s. And this LaCie box has two of them, so you can configure the SSDs as stripe drive (RAID 0) for performance or mirrored (RAID 1) for reliability.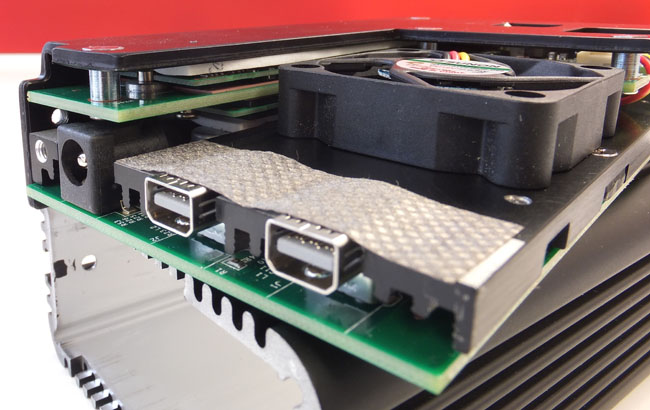 Above and below the circuit board to the top left are the diminutive Samsung XP941 M.2 PCIe SSDs
Click for a larger image
That kind of performance doesn't come cheap, though. You can pick up a 512GB 2.5in SATA III SSD such as the Crucial MX100 for less than 170 quid these days. By contrast, Samsung's XP941 512GB storage comes at roughly twice the price. Don't expect any change from £350. So that £700 for two of them which helps explain LaCie's eye-watering price tag of £970 for its Little Big Disk Thunderbolt 2 drive.
Still, 270 quid for an enclosure? Well according to LaCie it is a very special one. As black boxes go, it looks appealing enough in black with the aluminium housing adorned with cooling fins.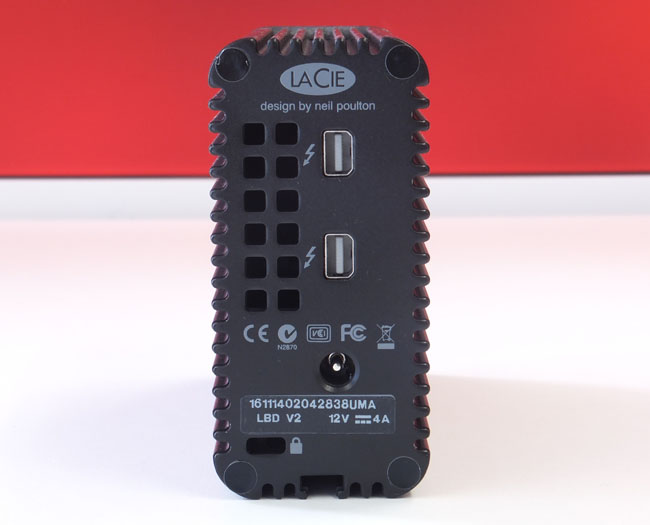 Cooling fins and a rear vent for the internal fan
It's all part of the dual-cooling system that utilises a fan to keep things from getting too hot (I never actually heard it kick in) and the heat sink casing is designed to get warmed up. Indeed it does get quite cosy under duress but never too hot to pick up. It works like a charm but you'd expect it to at 270 quid for a chunk of aluminium and a thermostatically controlled fan.
Admittedly, LaCie will have some additional controller circuitry in there and it does throw in mains leads for UK, US and EU sockets as well as a Thunderbolt cable. After all, it does emphasise that this is the "world's fastest portable storage".
You also get its Private-Public security software for Mac and Windows and Intego Backup Manager Pro.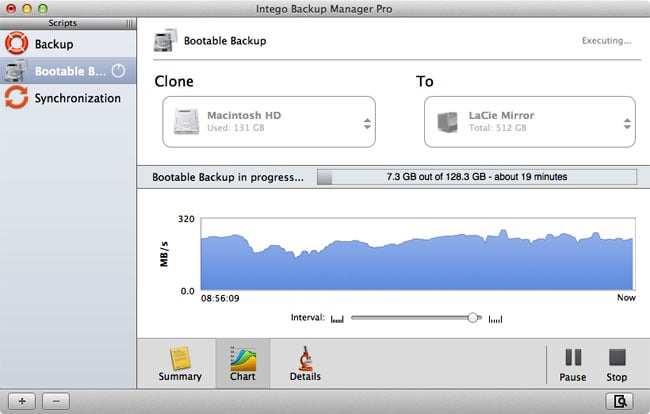 Intego Backup Manager Pro notches up a gratifying graph of data throughput as it copies
If bought separately, the Intego software would set you back £35. It's worth having too, as, among the various customisable saving options, it also allows for a bootable backup to be created. And with this drive being so fast, even with an original Thunderbolt Mac hooked up to it, you still don't have to wait long for it to complete.
There's a base plate too, supposedly for stability and to get a bit more air under it, but I don't suppose it'll be used by many. Even without this stand it's quite fairly heavy at 620g, so it's not going to topple easily and you don't have to worry about damaging HDD platters either.