LaCie Little Big Disk Thunderbolt 2 – dual SSD sizzler
The world's fastest portable storage, apparently
---
Peak performance
So what of its performance? Admittedly, I kicked things off using devices with the original Thunderbolt interfacing on both Mac and PC. The results were definitely encouraging, but quite some distance from the theoretical maximum for the 10Gb/s interface.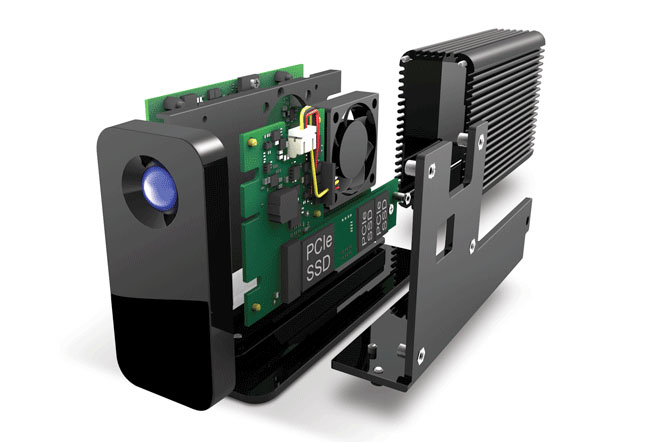 Utilising PCIe rather than SATA III delivers significant performance benefits
In Stripe mode, AJA's 4K video test on the Mac delivered writes and reads averaging around 832MB/s and 878MB/s respectively. Black Magic Design's Speed Test, another video performance utility, was more sober with 783MB/s writes and 806MB/s reads.
Using the Thunderbolt port on an HP ZBook 17, AS SSD notched up 722MB/s write and 677MB/s reads with CrystalDiskMark giving up a grudging 695MB/s write and 687MB/s read speed.

PC benchmarks on AS SSD, CrystalDiskMark and ATTO – click for a larger image
However, it wasn't game over for testing on the PC. Asus has kindly let a Z97 deluxe motherboard and a ThunderboltEX II/DUAL PCI Express card linger with El Reg for just this sort of thing. Conveniently, this combo has been in the clutches of our storage benchmarking buff Simon Crisp, so I suggested he plug in the LaCie Little Big Disk Thunderbolt 2 drive and see what numbers came up.
Oh, how that sounded so easy… but the numbers just didn't match the expectations and were in line with figures for the original Thunderbolt interface. Terminally curious, Simon set about all sorts of tweaks but nothing would improve the results. Nothing that is until he upgraded the system from Windows 7 to Windows 8.1.

AJA System Test benchmark: Thunderbolt original 10Gb/s test (left) and Thunderbolt 2 20Gb/s test (right)
Click for a larger image
An Asus motherboard BIOS update had also just appeared, so that was applied too. Alas, not very scientific to do both at once, but this had been a long road (I owe you a pint or three Simon) and it turned out that one or the other or both made the difference in performance we'd expected to see with read speeds in excess of 1200MB/s in all tests and writes spanning 800MB/s to 950MB/s.
Needless to say, the Apple MacBook 13in with Retina Display with its in built Thunderbolt 2 capability clocked up numbers not too shy of LaCie's claims with a stonking throughput of 1325.8MB/s read and 1182.5 write on Aja System Test.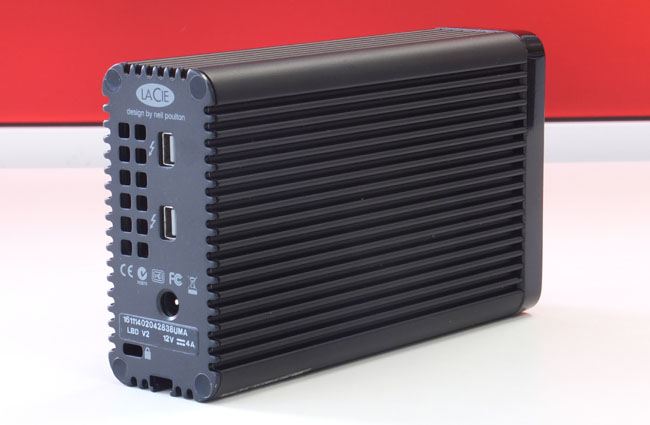 Portable performer with a price to match
The Reg Verdict
The LaCie Little Big Disk Thunderbolt 2, when married to the latest version of this interface, delivers impressive results. You can't help but smile when you see those benchmark numbers climb and massive video clips copy in a blink of an eye. Whether it's worth the money is another matter, but for some now grappling with weighty 4K workflows, it might make all the difference. ®

LaCie Little Big Disk Thunderbolt 2 – dual SSD sizzler
Featuring dual-512GB Samsung PCIe SSDs, LaCie's portable drive reaches some impressive performance peaks for those with Thunderbolt 2 on board.