This article is more than 1 year old
European astronaut exposes eerie snaps of ISS in Twitter feed
Bag-on-head terror ... In space, no one sees you tweet
An astronaut has posted a series of eerie images showing the International Space Station after nightfall.
Entitled "Spooky Space Station", the creepy shots show the claustrophobia and isolation of life in orbit.
They were taken by the German ESA astronaut Alexander Gerst, who is taking part in a six-month mission called Blue Dot, which is designed to inspire young would-be space travellers to take a huge leap for mankind.
Gerst is now perhaps the world's most prolific Peeping Tom, peering down to earth from orbit and taking hundreds of images.
He has also conducted experiments into the behaviour of soap bubbles in gravity and oversaw the docking of the ATV Georges Lemaître, which will suffer a fiery death when it plunges into Earth's atmosphere during January 2015.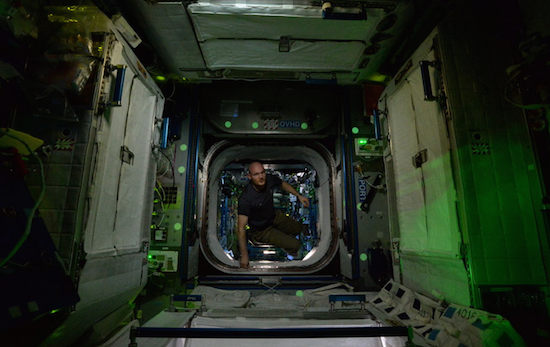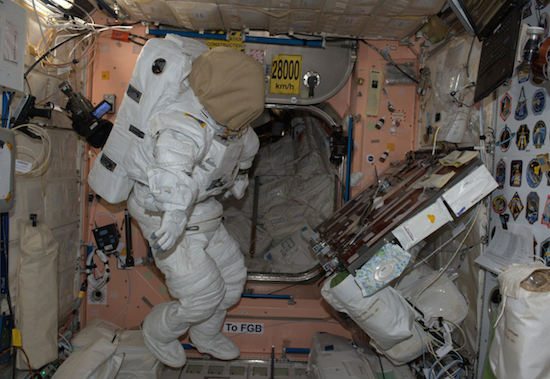 We had a good rummage through the astronaut's Twitter feed in the hope he had accidentally posted a few naked selfies, but were sorely disappointed.
The space-snapper has, however, posted a motherlode of stunning images of planet Earth, including this poignant image of the Amazon:
Soon gone. The #Amazon rainforest is the lung of our planet. Can we live without it? #BlueDot https://t.co/5rDdvYniYQ pic.twitter.com/cLgj3LgZxm

— Alexander Gerst (@Astro_Alex) November 1, 2014
Gerst also appears to be an EastEnders fan, because he posted this upside-down tribute to the title sequence of his favourite mockney melodrama:
Impressive even at a distance: #London from space. #BlueDot https://t.co/1F0oN0EU9v pic.twitter.com/OD9uDrG3Mw

— Alexander Gerst (@Astro_Alex) October 25, 2014
The astronauts of the ISS certainly seem to have Anglophile tendencies, as they stick strictly to GMT, occupying the same time zone as the cockneys.
Next thing you know they'll be doing the Lambeth Spacewalk. Oi! ®