Nexus 9: Google and HTC deliver Android 5.0 'Lollipop' at iPad prices
Latest Nexus slab doesn't skimp on performance
Review Google and HTC's new Nexus 9 tablet is most notable for being the first device to ship with Android 5.0 "Lollipop," making it attractive to Android fans. But it also delivers a bright hi-res screen and impressive performance that could win more than a few converts to the Nexus camp, provided they can stomach the mid-tier price tag.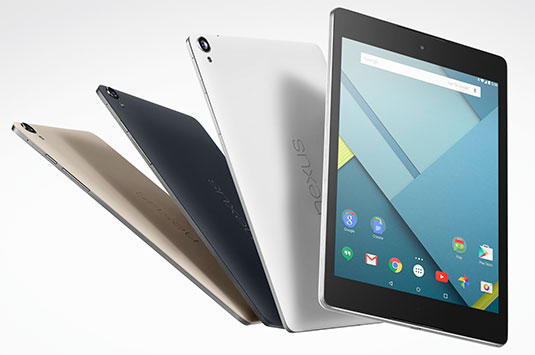 Google and HTC are offering their latest Nexus slab in three colors
The Nexus 9 has an 8.9-inch IPS LCD display, a new form factor for Google that fits in between its earlier Nexus 7 and Nexus 10 models. It's a good size for holding in one hand and it weighs less than a pound, making it suitable for reading – and in fact, at 425g for the Wi-Fi version and 436g for the LTE version, it's a touch lighter than the moderately larger iPad Air 2.
There's not much to distinguish the Nexus 9 hardware from any other Android slab at first glance, but its build quality feels solid. One gripe is that the power and volume buttons are very slim and don't have much travel, making them fiddly and hard to trigger. But that's a minor issue, considering you can just double tap the screen to wake the device.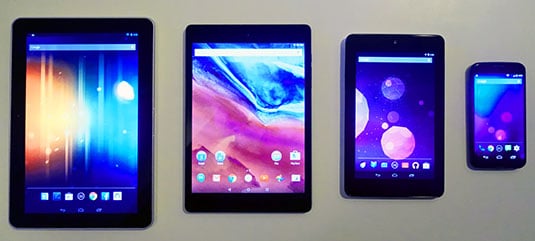 Comparing sizes, left to right: Samsung Galaxy Tab 10.1, Nexus 9, Nexus 7 (2012), Moto X (2013)
The display itself is a pleasure to behold. It's plenty bright, and its 2048-by-1536 resolution makes graphics and text look buttery smooth. That's the same number of pixels as the iPad's Retina Display, but the smaller panel size means you're getting 288ppi, compared to the iPad's 264ppi. The panel also uses Corning Gorilla Glass 3 for scratch resistance.
One important trade-off is that unlike the Nexus 7 and 10, the Nexus 9's screen has a 4:3 aspect ratio. Many people find such screens more suitable for working with applications in portrait mode, but the squarer display means HD video doesn't fill the screen the way it does on screens with 16:9 or 16:10 ratios. It appears letterboxed, like on an old-school TV – unless you zoom it, that is, but then you lose part of the image on either side of the frame.
That's a bit of a shame, because the device's stereo speakers with HTC BoomSound really do deliver nice audio performance for a device this size, although they're no threat to your dedicated phone audio dock.
...but she's got it where it counts, kid
Under its unassuming, shiny black hood, the Nexus 9 is a powerhouse. It's built around a dual-core Nvidia Tegra K1 system-on-chip clocked at 2.3GHz. Specifically, these are "Denver" cores, based on an Nvidia-designed microarchitecture that implements the 64-bit ARMv8-A instruction set in a novel way.
Nvidia's work seems to have paid off. The Nexus 9 scored a whopping 57,129 on the AnTuTu benchmark; by comparison, the quad-core Tegra 3 SoC in a Nexus 7 from two years ago scored 17,468.
Similarly, the new slab's 192-core Kepler GPU was too beefy for 3DMark's "Ice Storm Extreme" benchmark, which couldn't give it a proper score. But it scored a stunning 26,747 on the more comprehensive "Ice Storm Unlimited," compared to our Nexus 7's 3,227.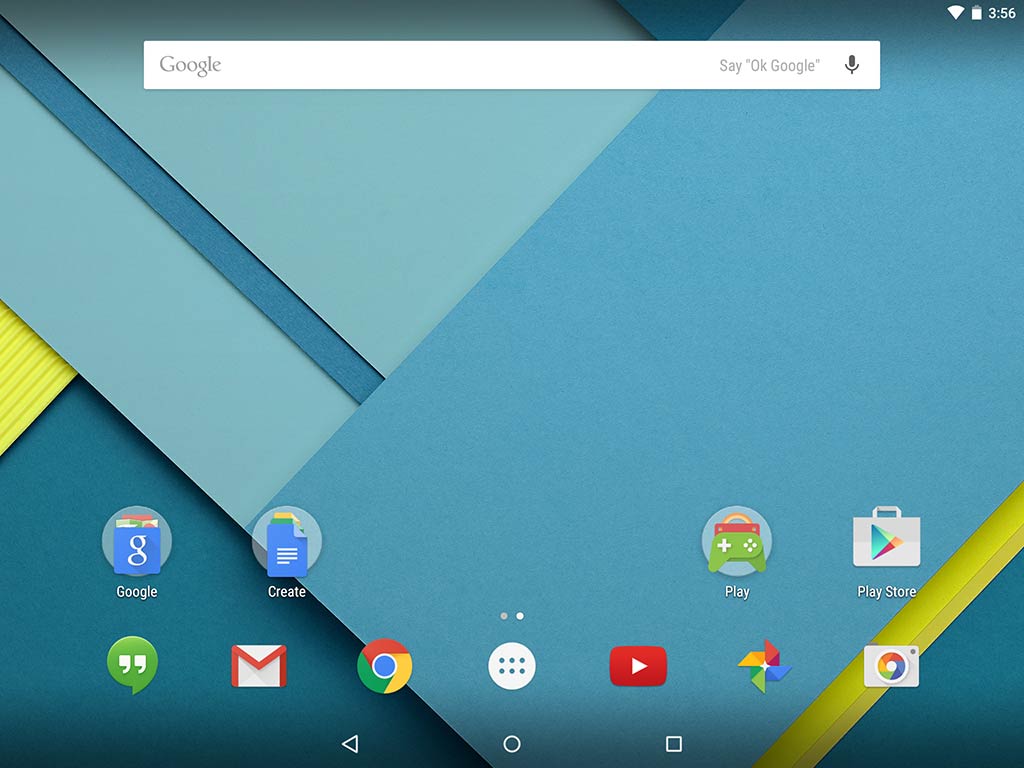 On the Nexus 9's Retina-like display, Google's "Material Design" UI looks crisp and smooth (click to enlarge)
What's more, the Nexus 9's power consumption is almost as impressive as its performance. HTC claims its fondleslab's 6700mAh battery lets it run for up to 9.5 hours while browsing on Wi-Fi or watching video. Just to be jerks, we did both at the same time, streaming HD movies over Wi-Fi from Google Play. We managed to drain the battery in around 5.75 hours, which suggests to us that under normal conditions, the Nexus 9 really will hold enough juice to keep you entertained throughout an entire flight between New York and London.
Rounding out the package, the Nexus 9 comes with the usual assortment of radios and gizmos, including 802.11ac Wi-Fi, NFC, Bluetooth 4.1, GPS, a pair of f/2.4 aperture cameras (8MP on the rear and 1.6MP on the front), a handful of sensors, and optional 4G LTE connectivity.
Meet Lollipop, Google's latest Android
Doubtless some of the new Nexus slab's battery performance can be credited to Android 5.0. One of Google's big goals for Lollipop was Project Volta, a wide-ranging effort to improve Android's power consumption in a variety of ways.
The new Android version also makes the Chocolate Factory's new ART runtime the default, rather than the earlier Dalvik. ART is supposed to improve battery life, but its main benefit is performance, which could explain some of the Nexus 9's impressive benchmark scores.
What's more, Lollipop is the first version of Android to support 64-bit ARM components like the Tegra K1. Java applications run on Android 5.0 in 64-bit mode automatically, giving them access to a larger memory address space (although the Nexus 9 has just 2GB of RAM) and better performance for some types of computation.
Google also says it has optimized Lollipop's A/V pipelines so that multimedia will run more smoothly and audio and video will be better synchronized.
But all of that aside, what does Android 5.0 mean for you and me?