Nips, tucks, and tweaks
One of the first things you'll notice when you fire up the Nexus 9 is Lollipop's new "Material Design" look and feel – although you might not notice it as quickly as you may have been led to believe. Icons and controls have been given a simpler, flatter look but they're still recognizably Android, and only a few menus and controls have been moved from where they were in Android 4.4 "KitKat."
Home screens are smarter in Lollipop. By default there's just one; drag from left to right and you'll scroll not to another home screen, but to a screen dedicated to Google Now. To create a new home screen, you drag an icon off the edge of an existing one. And when you remove all of the icons from a home screen, it's deleted, so you never end up with orphaned icons sitting a few screens off to one side.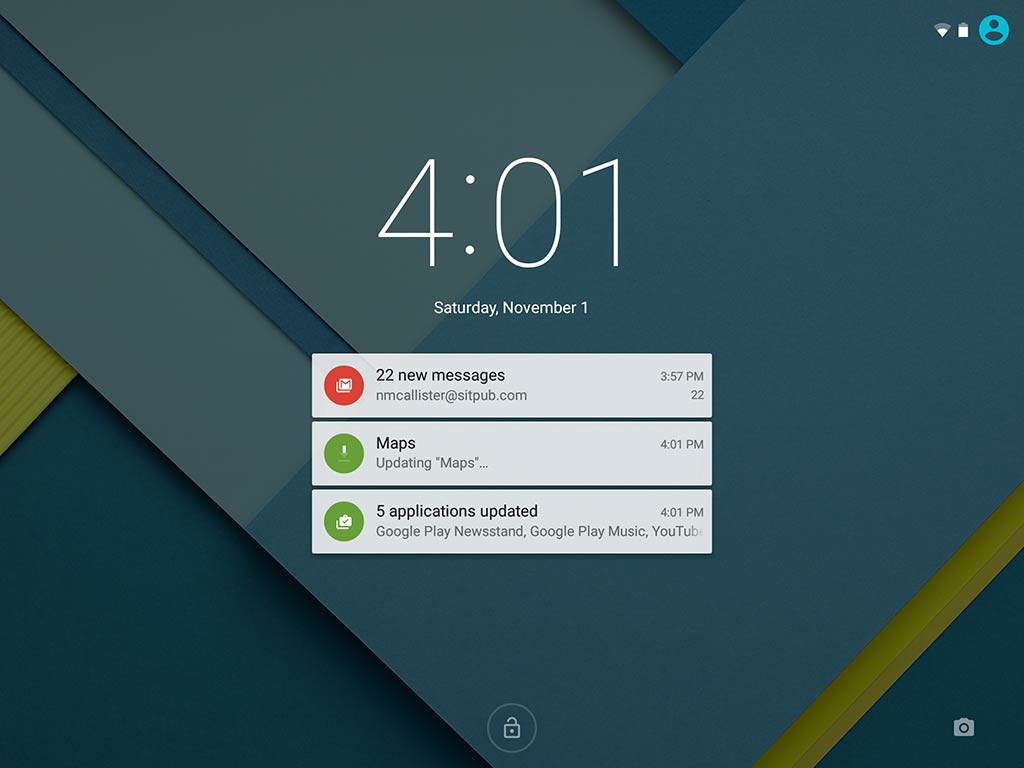 Notifications now show up on the home screen, giving you at-a-glance info on recent events
Notifications have been spruced up, too. Notably, they now appear on the lock screen and you can respond to them from there – something that some Android phones, like the Moto X, have been doing via third-party customizations. The privacy-conscious can customize what appears on the lock screen and even turn off notifications for apps entirely.
In another nod to the Moto X, compatible devices – including the Nexus 9 – can now respond to the "OK Google" voice cue to activate Google Search even when the screen is off, although this capability is disabled until you switch it on in Google Settings.
Full device encryption now comes enabled by default. Unlike before, you won't need to let your device crank for 15 minutes or more while it garbles all of your storage. You will, however, need to specify a PIN or password for the encryption to actually mean anything. Fresh out of the box, the Nexus 9 can be unlocked with just a finger swipe, which is no protection at all.
A detailed list of Lollipop's new features is available on Google's site, here. All in all, though, the new version of Android is a fine complement to the Nexus 9's impressive hardware. On top of the snappy performance, the UI feels more intuitive and a number of the bundled apps have been given a nicer look and feel, without changing anything that should put off old hands at Android.
So: buyer's remorse, yes or no?
The question is, in an era when many of the major PC makers are readying laptops complete with keyboards and trackpads and running full Windows 8.1 for less than $200, will an 8.9-inch Android tablet that starts at $400 still find an audience?
Specifically, a Wi-Fi-only Nexus 9 with 16GB of onboard storage costs $399, while the 32GB Wi-Fi version is $479 and a 32GB version with Wi-Fi and LTE costs $599. To be fair, these prices are cheaper than the iPad Air 2, but not by much and the hardware isn't strictly comparable. What's more, it's not clear that Android has the same appeal as iOS to the kind of well-heeled customers that Apple draws.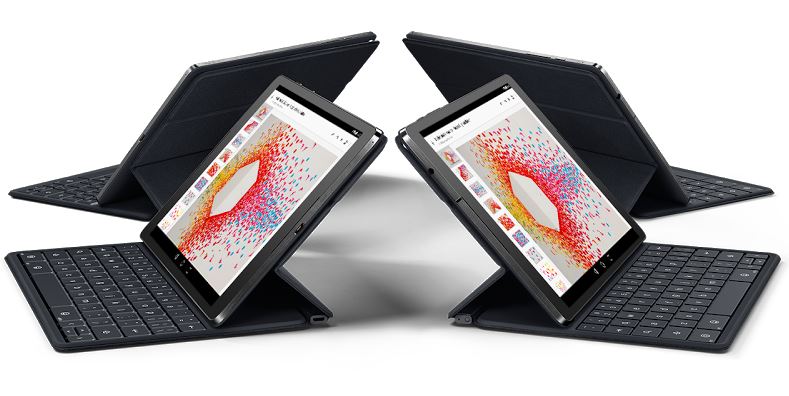 Not included: The Nexus 9 Keyboard Folio cover will set you back another $130, when it ships
Business customers who'd like to add a keyboard to it will have to pay even more, too. Google didn't provide us with one of HTC's Nexus 9 Keyboard Folio covers to review, but when it's ready it will retail for $129 – the same price as the Type Cover for Microsoft's Surface Pro 3, which is a far more powerful and versatile device.
One group that should definitely be looking at the Nexus 9, though, is gamers. Its CPU and GPU both deliver best-in-class performance, meaning graphics-intensive Android games should shine. Most games should be able to scale comfortably to the Nexus 9's 4:3 aspect ratio, too, unlike widescreen movies.
Whether people who are mostly interested in web browsing, messaging, and document editing really need a Nexus 9 – as opposed to one of the other, cheaper Android tablets already available – is more questionable. But if you can afford it, and especially if you like being on the forefront of what's going on in the Android world, the Nexus 9 is a well-made fondleslab that definitely delivers bang for your (not inconsiderable) buck. ®

Nexus 9: Google and HTC deliver Android 5.0 'Lollipop' at iPad prices
A responsive, high-performance tablet with a bright ultra-high-res screen, the Nexus 9 is the first device to ship with Android 5.0 "Lollipop."
Price:
$399 (16GB), $479 (32GB), or $599 (32GB LTE) RRP