Scalable storage outfit Imation slides back after recovery
Deepening loss, lower revenues
Analysis Formidably troubled storage outfit Imation, the company dragged down by delayed exits from the tape and optical media markets, has recorded a third quarter loss 76 per cent worse than last year on revenues just nine per cent down on the year.
The third 2014 quarter saw revenues of $175m, compared to $178.6m a quarter ago and $191.9m a year ago: honey, I shrunk the company. The net loss was a thumping $61.4m. It was a comparatively better $21.4m in the previous quarter and a poor $34.9m a year ago.
Mark Lucas, Imation's CEO, said, "We continue to make progress in our evolution," which suggests to us he should reverse his direction of progress, but that's being cheap.
Declines in Imation's legacy businesses of magnetic tape and optical media were moderated in the quarter. The Consumer Storage and Accessories (CSA) segment revenue declined 15.1 per cent, but gross margins improved by three per cent from Q3 2013. Imation's Tiered Storage and Security Solutions (TSS) revenue and gross margins were essentially flat compared to the prior year.
What happened to the Nexsan storage array business that Imation bought as part of its recovery strategy? Lucas said: "Our Nexsan data storage portfolio posted another sequential quarter of growth, as did gross margins in TSS, which serve as further indication that our ongoing efforts to generate accelerated momentum are working."
The security business seems promising: "We have completed more than 100 proof-of-concepts for IronKey PC on a Stick and are beginning to see customers launch deployments."
Well, with all this progress and moderating losses in the legacy tape and optical business, why did Imation make bigger losses?
It's down to Nexsan's growth rate being lower than hoped for, resulting in an impairment test and subsequent goodwill reduction of, wait for it, $35.4m. Oops. It's going to take longer than expected for Nexsan and the IronKey revenues to jointly pull Imation out of the hole it's in.
The company is shrinking: for the nine months ended 30 September, its net revenue was $532.5m, down 15.2 per cent compared with the same period last year. We might expect full year revenues to be around $733m, 15 per cent down on 2013's $860m and less than half of 2009's $1.65m.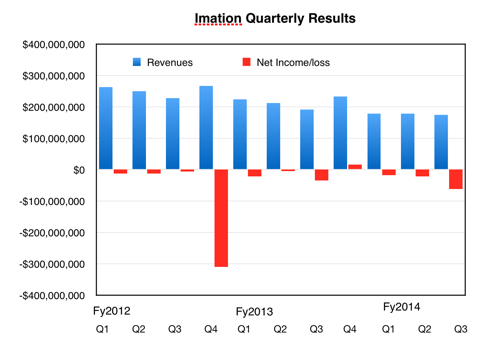 In fifteen of the last 16 quarters Imation has made a loss. Turning this ship around is a long and bloody affair, with pools of red ink everywhere. And it's surely not not over yet. Let's look at the segment info:
Consumer storage and accessories - $92m
Commercial Storage media - $54.3m
Tiered storage (Nexsan) and security (TSS) - $28.7m
Our calculations say TSS revenues of $28.7m have to grow faster than the consumer storage and storage media revenues of $146.3m decline. A rough guess says that it might be 12 months or more before Imation shows a profit. Management must know it's in for a gritty and hard long-haul. Perhaps it should have bought a software-defined and OpenStack-focused storage company instead of a traditional hardware-based array company, but who wants to listen to armchair quarterbacks? No one.
Look on the bright side: when Imation emerges from the trough it's in, it will probably be a $500m/year company. You can do things with a half billion a year revenue stream and it could be much worse. ®