Oculus Rift tech-specs 'many months away' from hitting the shelves
Virtual reality virtually a reality, insists upstart's CEO
---
The CEO of Oculus reckons his virtual reality upstart is sorta getting close to flogging a Rift headset that's ready for normal people to use.
Speaking at a web tech conference in Ireland on Tuesday, Brendan Iribe said the techno-specs will be on general sale within months rather than years.
A Rift headset for software developers has been on the market for some time, allowing programmers and designers to test their virtual reality applications. But today Iribe has signaled a Rift for non-developers is on the horizon.
"We're all hungry for it to happen. We're getting very close," Iribe was quoted as saying by TheNextWeb.
"It's months, not years away, but many months."
The release, if it ever happens, will not only be a milestone not only for the startup, it'll be a significant moment for developers building and selling games for the strap-on hardware.
Oculus has been teasing gamers for years with demos and previews of the headset. The company also hired Doom and Quake wizard John Carmack to lead its engineering team. Early models of the kit induced nausea and gave some testers headaches, but these problems were, we're told, ironed out in later revisions of the Rift, code-named Crystal Cove (January 2014) and Crescent Bay (September 2014).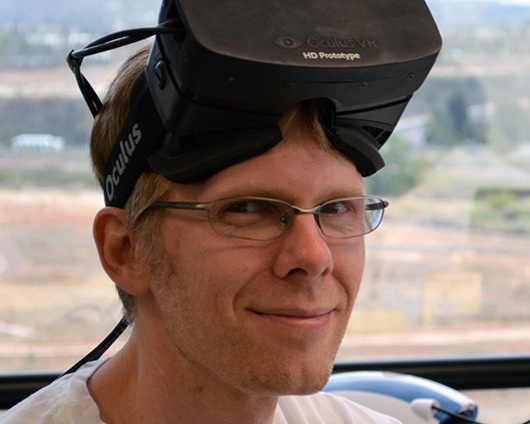 iD genius ... John Carmack sports an Oculus Rift headset
When Oculus brings its goggles to market, the company faces competition from a larger, desperate rival: profit-free PlayStation maker Sony and its Project Morpheus VR headset, which was unveiled earlier this year.
Getting the punter-ready Rift to market ahead of Sony would therefore give Oculus a valuable head start. ®