Microsoft tells resellers to use Office 365 as loss leader
Veep for smallbiz urges resellers to focus 'customer lifetime value', not first-up profit
---
Thomas Hansen, worldwide veep of Microsoft's small and medium business organisation, has urged resellers to adopt a "flexible" attitude to profit when selling Office 365 at a conference in China - as those who sign up for the cloudy suite become easier to up-sell to other Microsoft offerings.
Speaking at the Canalys Channels Forum in Shanghai today, Hansen said Office 365 buyers are the "low-hanging fruit" for resellers and that the suite's popularity with and familiarity among users means it's the ideal product with which to initiate a refresh-to-cloud sale, or to re-engage with dormant customers.
Office 365 is also a fine way to win net new customers, he said, adding that "Partners who are a little more flexible with profit on a first sale, win."
"Get in with a customer, get the trust built, provide the first service and then over time cross-sell and up-sell," he urged. "That seems to be a model that is resonating very well."
In remarks which suggested that Microsoft has had a shelfware problem in the past, he said partners must also work to ensure their customers use what they buy.
"Making sure customers use what they pay for is more important than ever before," he said. "You've got to get that motion going to get customers to see the value and what it can do for their business. If we can't, a very nasty surprise waits in the form of churn."
That's tough stuff for customers to hear, but apparently not a deterrent because Hansen showed a graph that looks an awful like the one we've reproduced below to show sales of Office versus Office 365 over time.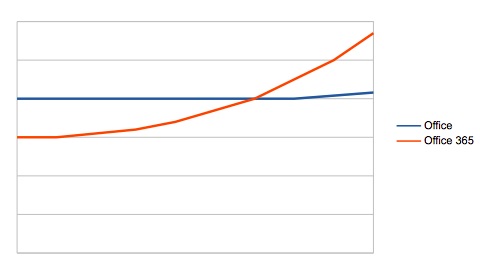 Hansen's graph didn't have details on its axes and our man in Shanghai wasn't able to snap a shot of his slide worth reproducing, but both said it describes the current state of affairs in which Office 365 sales are soaring.
"I know partners who used to have 100 or 200 customers and are now putting an extra zero after that number," Hansen said.
Selling in this way makes sense if resellers keep their eye on what Hansen called "customer lifetime value". That value should be high once resellers introduce other Microsoft cloud services to their customers, and then start to sell Microsoft hardware too.
Microsoft's previously warned its channel against competing with Google Apps on price. This call for low-margin sales included a little of that tactic, but Hansen also mentioned that Google resellers aren't as keen on the Chocolate Factory as was once the case because Office's wide recognition and adoption makes it easier to introduce cloud to an organisation. Some resellers are even flipping, he said - although of course he would.
Beware, then, of resellers offering attractive Office 365 pricing. All may not be as it seems. ®