This article is more than 1 year old
Why Comrade Cameron went all Russell Brand on the UK's mobile networks
National Roaming Rǝʌolution, innit!
Analysis Dropped calls between President Obama to Prime Minister David Cameron on the Vodafone network over Christmas led to the government getting bossy with the mobile networks, according to industry sources.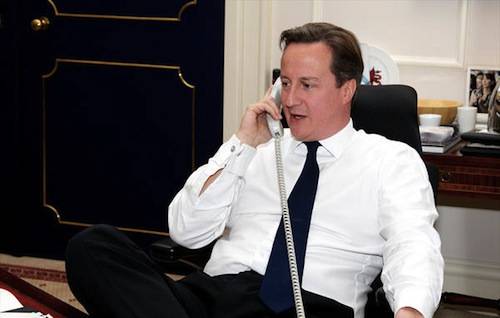 The PM was in rural Oxfordshire over Christmas and decided that "something must be done" about rural mobile coverage. But the proposed cure is an odd one – closer to proposals floated by teenage socialist firebrand Owen Jones – to nationalise the country's mobile infrastructure than a traditional incentive-based policy.
Mobile coverage reaches 98 per cent of the population – but around a fifth of the landmass is without a signal. Some of the operator's own estimates put the cost of bridging the gap between £2bn and £4bn – and there aren't enough people in those rural notspots to justify the investment.
No.10's preferred solution isn't better infrastructure, but giving consumers the ability to roam from network to network. The PM gave the plan to Maria Miller at the Ministry of Fun, who decided it was a rum idea. But after Miller resigned in April, her successor, ambitious business minister Sajid Javid, threw his weight behind the plan. Last night, a draft consultation went out to Britain's big four: EE, Vodafone, Telefonica-owned O2 and Hutchinson's 3.
The operators' objections to National Roaming broadly fall into three categories. It would create practical difficulties, they argue; it "contradicts 30 years of policy" (as one told me yesterday); and ultimately it will kill off long-term investment in rural infrastructure.
We all fall down
Leading the first set of issues is resilience: what happens when one network goes down – and everyone switches to another network? If rural mobile infrastructure is so poor that one network can't cope with its own subscriber base – how well will it cope with two? And ultimately – with four? In the event of a single network failing, a domino effect is likely, operators say, as the entire rural subscriber base attaches at once. And this has serious repercussions, given the reliance of vital services on mobile coverage. Hence today's briefings from the Home Office that National Roaming puts state security at risk.
There are other technical objections, too. Operators don't support in-call handover between networks: so even a National Roaming experience is likely to be an unhappy one for the user if they're on the move. And phones would need to be reprogrammed to search more aggressively for a higher priority network – every few minutes rather than 3GPP default of every hour – resulting in much faster battery drain. (See 3.2.2.5 in the spec: [450kb PDF]).
Who's calling us bumpkins?
Another pressing question is "what defines rural?" When the policy framework was established 25 years ago, lower frequency spectrum gave better coverage indoors. Today, high frequency spectrum is now used alongside it, so many users discover "notspots" in their own homes. If bumpkins can switch to another network, why can't everyone else? Confining National Roaming to rural areas discriminates against the urban users who actually fund the network.
#DisruptiveVultureInnovation
But the investment dilemma is the most compelling argument against National Roaming. It's best illustrated with a thought experiment. Imagine a new entrant in the UK market called "VultureNet". It advertises low prices and has a capex budget for its first 10 years of precisely £0.00. All calls are therefore roaming calls, parasitic on the established four networks' infrastructure.
What happens next is easy to predict. Vulturenet customers get rotten service – but Vulture blames "the established players" for trying to stifle a "disruptive innovator". And ultimately, all four established networks become Vulturenet. All reduce their infrastructure capex to as little as possible – because they are no longer able to attract customers on network quality, and infrastructure upgrades just aren't worth the expense. Pretty soon the UK falls behind more market-oriented global rivals. Parklife!
Ofcom's view as set out by Ed Richards is that National Roaming is impractical and unwise. Ofcom examined the proposal in a report (PDF) in 2010. It highlighted the domino effect, and concluded National Roaming "is not technically feasible". But even if it were, the effect would be a lousier customer choice.
Even if technically possible, 'all-to-all' roaming, in-call handover and complete transparency of service would probably need levels of operator co-operation that would impinge on their ability to compete and differentiate themselves.
Advocates of National Roaming have mooted a complex system of fines for operators to redress the disincentives – but this would create new skews. Operators would then invest in gaming the regulations rather than improving the experience – and pass the cost onto rural subscribers, who would get "bill shock" without leaving the country.
Operators we spoke to acknowledge that rural mobile coverage should be improved, but argue that National Roaming is the worst possible solution. They point that out that a mixture of regulatory reform, and incentives and sweeteners, could be much more effective. One major network says NIMBY-objections limit the height of masts, and therefore the range of coverage.
Even in France, one of the few countries where some very inter-network roaming is mandated for over 3,000 villages, (it's called Le programme de zone blanches, it's part of a bundle of measures including site-sharing. It is mostly passive sharing, and it isn't really a National Roaming plan. Cyprus, too, mandated national roaming for its population (of under 1 million) – but the resulting poor quality calls are believed to have stifled the adoption of 3G.
The Minister for Fun* Sajid Javid told the BBC today that mobile coverage was "like a utility" to people. It's hard to believe his Department has considered the implications of the tectonic shift in policy to regulating it like one. ®
* Department for Culture, Media & Sport – aka the "Fun portfolio" – as Reg regulars will know it