This article is more than 1 year old
The late 2014 Apple Mac Mini: The best (and worst) of both worlds
News of its death has been greatly exaggerated
Soldering on
Mac OS X isn't quite the RAM gobbler that Windows is, but since the Mini uses integrated graphics, that's a big chunk of RAM nabbed before you've even started running applications, especially if you're using multiple displays or even a single screen with a greater-than-HD resolution.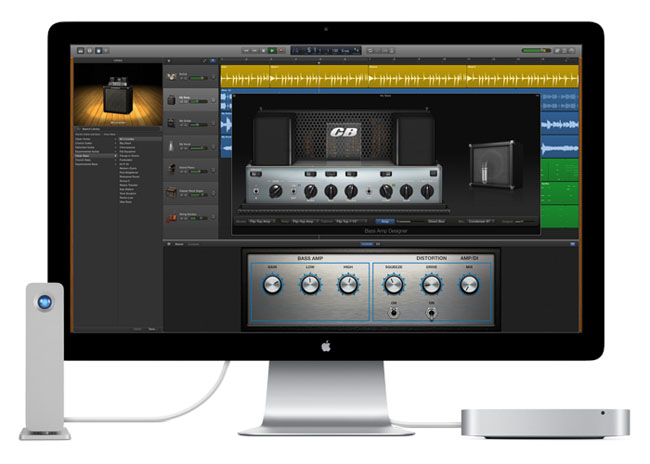 Just how much RAM do you need to run a bunch of music plug-ins smoothly?
The Mini I have here has 8GB of RAM and I would't take anything less. Mac OS X Yosemite, pre-installed on the new Mini, demands rather more memory than its predecessors did — more daemons, more backgrounded apps, more memory leaks. Even with only a handful of basic applications open, this Mini is already consuming just under 7GB of the installed eight.
Trouble is, I can't do anything about that. I can't assess my memory usage on a new platform and then expand the memory as necessary. Who cares if no other Mini user wants to do this. I do. For the sake of perhaps five dollars for the memory slot and the tooling for the removable base, Apple has made its little machines far less attractive for anyone not seeking an appliance. And surely those people are among the iMac's natural constituency, not the Mini's?
The Fusion drive option sees the SSD position on top of the HDD housing
Source: iFixit.com
If you do open up a 2014 Mac Mini, it's still an engineering marvel. All kitted out in silver and black, it's as attractive on the inside as it is on the outside, as the iFixit disassembly pics on here reveal. Better than anything I can take, these shots will show you exactly how accessible the new Mini isn't. Getting to the 5400rpm 500GB hard drive (in the base model; others have bigger drives and even a Fusion Drive SSD cache) is a chore, but doable.
In use, this box, based on a 1.4GHz dual-core Core i5-based 4260U CPU feels fluid, and unlikely to trouble any but the most power-hungry users. As I say, it's the lack of memory expansion that's the problem here.

Alas, no FireWire but you do get two Thunderbolt 2 ports now
There's a problem for users with Firewire peripherals too: Apple has dropped the Firewire 800 port it had placed on the back of the 2012 model. In its place is a second Thunderbolt port which will come in handy if you're driving your monitor off the other one. The new Mini, like the old, has HDMI, but that limits you to 1920 x 1080. Thunderbolt drives my 2560 x 1440 Dell display very well.
The Mini still has a useful four USB 3.0 ports and the SD card slot. Once again, the PSU is built in; no brick hanging off the back here. Gigabit Ethernet rounds off the new Mini's port array; the internal Wi-Fi has been upgraded from 802.11n to 802.11ac.