This article is more than 1 year old
The late 2014 Apple Mac Mini: The best (and worst) of both worlds
News of its death has been greatly exaggerated
Settling scores
The CPU may have altered, but the performance hasn't. Geekbench 3 yields 64-bit single-core and dual-core ratings of 2800 and 5382, respectively. The 2012 Mini El Reg reviewed had a 2.5GHz Core i5-3210M, based on Intel's third-gen Core architecture.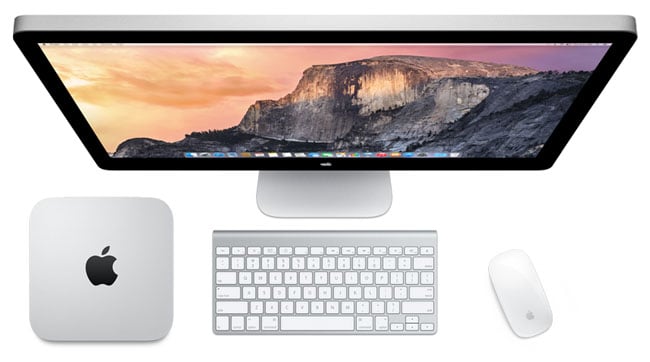 Out-of-the-box the only accessory provided now is a power cable
Its clock speed was almost twice that of the Haswell CPU in the new model and with a slightly higher (3.0GHz to 2.7GHz) Turbo Boost speed. The previous Mini was tested with Geekbench 2 which generated results not directly comparable with those of Geekbench 3, but numbers from the database of the benchmark's developer, Primate Labs, put the old model on averages of 2630 (single core) and 5418 (multi-core).
So the new model, with a lower average clock speed, is delivering very slightly better performance. But it's not a stellar increase, and certainly no reason to sell off your 2012 Mini for a new one. Indeed, given the upgradeability of 2012's model, you might even prefer to seek one out second-hand and spend the difference getting yourself an SSD and a big memory boost.
The former, in particular, will be a noticeable improvement as you reduce the 'lag' of the 5400rpm HDD thanks to faster start-up times and application loads.

Lower price, but fewer user upgrade options
The one piece of good news here is that Apple has knocked £100 off the price tag. The base 2012 model would have set you back £499; today's entry level Mini is £399. Price reductions are nice, but in this instance it's small compensation for the loss of a memory slot: most of that £100 will go on a measly 4GB build-to-order upgrade.
Spending £170 more than the base price gets you the 2.5GHz Core i5 version, 8GB of memory and a 1TB HDD if you need the space. A further £230 (total: £799) buys you a 2.8GHz Core i5, 8GB of RAM, 1TB of HDD plus a 256GB SSD. Both the latter versions include Intel's Iris Graphics; the baseline model has Intel HD Graphics 5000.
The cores are the same; the Iris just has a higher clock speed than the 5000. It's more a nice-to-have than a must-have, especially if you're not gaming. Two years on, my ageing copy of Doom 3 steps from 44fps to 54fps at 1920 x 1080.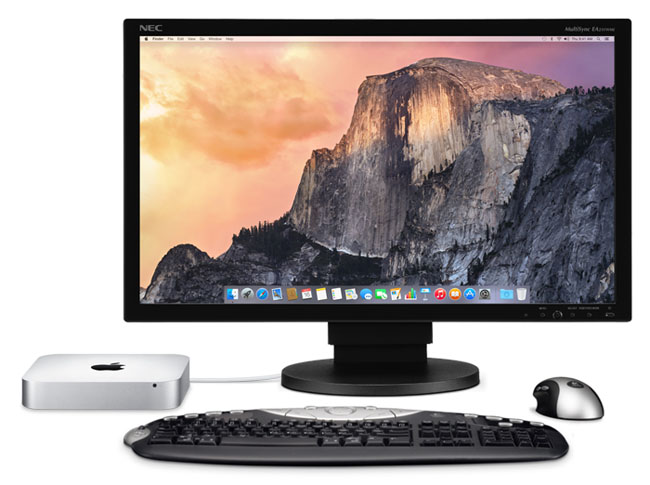 Use your old peripherals and spend the savings on RAM
The Reg Verdict
The Mac Mini remains a stylish, very compact desktop with the ability to drive greater-than-HD displays. It's no games machine, but it does make for a very nice general productivity box. Thanks to OS X's foundations, it's a great Unix machine too thanks to wide access to both open source and commercial software.
I'm going to get one to keep in the office, to save me carrying a laptop back and forth. I just think I might see if I can find a discounted 2012 model, its initially wobbly HDMI output now long fixed, rather than the current one and grab some extra memory for it. ®

The late 2014 Apple Mac Mini: The best (and worst) of both worlds
Compact, stylish desktop Mac gets a 'one step forward, one step back' upgrade. Two years after the last version, the new Mac Mini comes with an Intel Haswell processor (good) but loses memory expansion (bad).
Price:
From £399-£799, £479 (reviewed) RRP