This article is more than 1 year old
Search engine guru sniffs cloud, makes it rain in Amazon jungle
Upstart promises Amazon S3 compatibility, cost on premises
Harmsel biz blog Though relatively unknown in the US and Europe, Cloudian – with its product HyperStore that allows enterprises and cloud service providers to build their own Amazon S3-compatible cloud – has 40 large customers worldwide including Vodafone, Nextel, NTT, SoftBank, Nifty, and Lunacloud.
The firm claims HyperStore helps customers build their own Amazon S3-compatible cloud on-premise, in single or multi-data centre form, with its software stack compatible with any application you run on Amazon.
It comes as software-only or a pre-installed software and hardware appliance with a cost as low as 1¢ per GB per month (assuming a 20 per cent compression ratio, erasure coding and not replication and low street pricing for commodity hardware).
Michael Tso, Cloudian's CEO, was born in mainland China. He was raised in Shanghai and Hong Kong, finished high school in Melbourne, Australia, and then studied in the States, where he graduated from MIT in 1993. In his 20 years in business, he has not only lead companies commercially, but also accumulated 32 patents.
Cloudian's background
Tso has experience in the search engine market, he was an early employee of Californian firm Inktomi – whose search engines were behind AOL, Yahoo and Microsoft. In 2000 he met with Hiroshi Ohta, whom Tso says is the inventor of the cameraphone and founder of the first photo messaging service. This service had done well but Ohta had trouble with data spikes, which caused crashes. He met with Tso, who built very stable search engines, and together they founded Gemini Mobile in 2001.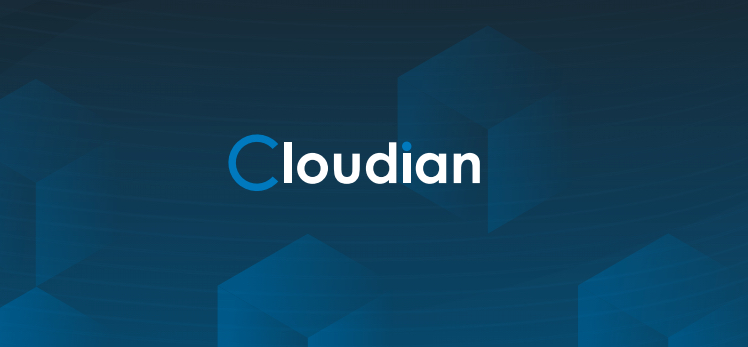 Gemini Mobile built the messaging service platform behind Vodafone Live and later rolled out similar messaging platforms for other carriers. These systems processed and stored messages for carriers and were robust "telco-proof" systems, says Cloudian's CEO.
With their conviction that the need for data storage will continue to grow exponentially, Ohta and Tso decided to explore the storage space and re-named Gemini Mobile as Cloudian in 2011.
Since then there have been three funding rounds:
April 2012 - A-round of $11.6m from Goldman Sachs
October 2013 - B-round of $5.1m from Intel Capital
July 2014 - C-round of $24m from Goldman Sachs, Intel Capital, Fidelity Growth Partners Japan, and Innovation Corporate Network of Japan.
Total funding is $40.7m and Cloudian has offices in Japan and China with its headquarters in Foster City, CA.
I spoke with its CEO recently and he identified three trends in storage that inspired him and Ohta to build Cloudian.
Storage trends
Tso sees three main striate trends.
First, he says, flash has taken the market by storm. The CEO sees storage diverging, with a high IOPS performance tier in flash and a low-cost scale-out object capacity tier on commodity hardware. He sees this trend leading to the demise of high priced, high I/O storage arrays.
Secondly, says Tso, object storage on commodity hardware is the only answer to exploding data amounts. Some 50 to 60 per cent of the world's data has been s generated in the last two years.
Tso comments: "That's an amazing change in the storage industry, the likes of which the world has rarely seen. That's why we are excited at this opportunity, that we see as a 10-year [rather than] a two-year opportunity."
He believes that to keep up with all this data increase while staying cost/performance competitive, the standard three-year innovation cycles aren't going to cut it anymore. Cloudian's own software plus hardware appliance offering works on a six-month cycle.
Thirdly, and somewhat surprisingly, he believes free enterprise cloud storage is coming. Either Amazon, Google or Microsoft will be first and the rest will follow, says the CEO.
Though not all data can be hosted in the cloud, some data can always be migrated to it, he says. Enterprises need to be able to leverage that free storage to stay competitive. Compatibility between private and public clouds is key for enterprises to effectively build their hybrid solution.
Cloudian was founded with a 10-year horizon in mind. It spent its first two years perfecting the storage system without any effort put in marketing, says Tso. This has now changed and it has invested in marketing people, with Paul Turner hired as chief marketing officer as well as taking on a sales force. It is expanding into Europe and more of the US from its Foster City base, with channel partnering as an emphasis. It's one to watch.