This article is more than 1 year old
At last! Now you can STIFLE dull chums you can't really unfriend on Facebook
Can't ditch your oldest mate, but let's lose the baby pics
Facebook will soon let people edit and block stuff from appearing in their News Feeds after users complained of being bombarded with boring posts.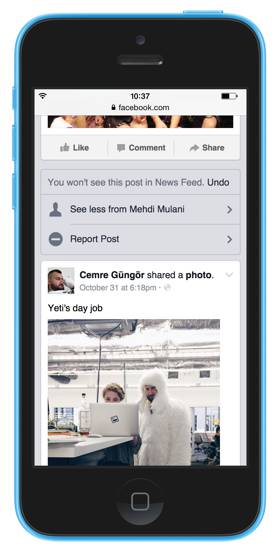 All the news that's unfit to print
"We love your feedback about what you want to see in News Feed so we can work to get the experience you want," said Greg Marra, product manager at Facebook. "We've built and updated a few tools to help you do that."
As of Friday, Facebook users can bar people from appearing in their News Feeds. Clicking on the top right hand of a post will reveal an option to either block posts (while still remaining friends with the dullard) or seeing less stuff they churn out on the social network.
You can obviously unfriend boring people, but that's not something Facebook wants to encourage too much. Instead, there will be a pop up showing which people or groups you've blocked, and suggestions of whom you might like to add to your feed.
The behoodied-one heading the social network is quite clear about why these changes are needed. At a town hall-style meeting on Thursday at FB's HQ in Menlo Park, CEO Mark Zuckerberg said he wanted the News Feed to be a personalized newspaper for all users, and making sure readers can choose what they want to see will help that. ®