This article is more than 1 year old
ICANN creates 'UN Security Council for the internet', installs itself as a permanent member
Now to 'protect children through a browser'
It gets worse: let's follow the money
Why does a website that makes no decisions (according to #ICANN) need a "coordination council" of 5 reps per stakeholder? #Netmundial #WEF

— IP Justice (@ipjustice) November 6, 2014
The three organizations also said they would be funding a "secretariat" for the initiative but gave no details over who would be involved, how they would be chosen, or what their role would be.
After 15 minutes of questions (following 45 minutes of presentations), the moderator of the launch – ICANN's press relations agency Edelman – shut down the online meeting with many complaining that their questions had not been asked.
Deja vu
This is not the first time ICANN has been criticized for its efforts to control conversations over internet governance while at the same time claiming to be open.
The creation of the NetMundial conference earlier this year and its sister astroturf organization, 1Net, was bankrolled by ICANN. It then used its clout to controversially change a key recommendation of the conference at the last minute.
Some months after that conference, ICANN was again criticized when it announced out the blue that it was partnering with the World Economic Forum to create the namesake "NetMundial Initiative".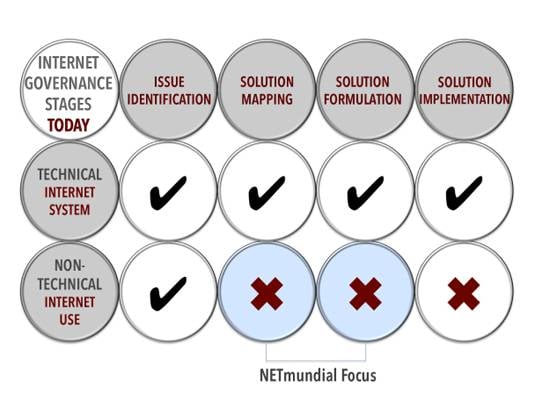 Identifying the key areas of focus which look like, um, control of the Internet
Despite claiming a "bottom-up process", leaked documents revealed that the organization had drawn up its own agenda and processes as well as expended resources trying to pull high-profile US business figures into the discussion, including the heads of Intel, Google, Comcast, Apple, Verizon, Microsoft and Cisco.
Despite being asked repeatedly, ICANN and its two partners have so far refused to reveal how much money they have spent on the project, or how much they have committed to it going forward.
What is clear is that while months of effort have been put into developing the decision-making systems for this "open" project, there has been little or no effort made to engage the people that are actually working on solutions to internet governance problems.
There has been no mention of actual topics to be discussed beyond references to existing public documents, and no organizations that work on such solutions are referenced on the website or were present at the launch.
No wonder they decide to model themselves on the United Nations. ®