Farewell Nokia: First ever 'Microsoft Lumia' set for Tuesday reveal
Teaser image suggests Fin for Finn smartphone brand
Pic For several months we've known the era of Nokia-branded smartphones was coming to a close, but on Friday, Microsoft gave us the date it ends: November 11.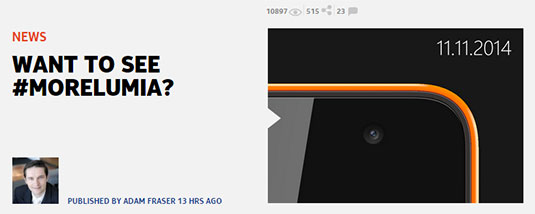 Microsoft's next Lumia device likely won't carry the Nokia brand
That's when the software giant plans to announce details for its next Lumia handset, according to a post on the "Conversations" Nokia blog urging fans to tune back in on Tuesday for more information.
The Friday post features little text but includes a teaser image of the corner of a smartphone, along with the date "11.11.2014."
The glamor shot reveals little about the device in question, but it appears to match images leaked to Chinese microblogging site Weibo earlier this week, which show a smartphone clad in orange plastic with the Microsoft logo stamped on the front and back.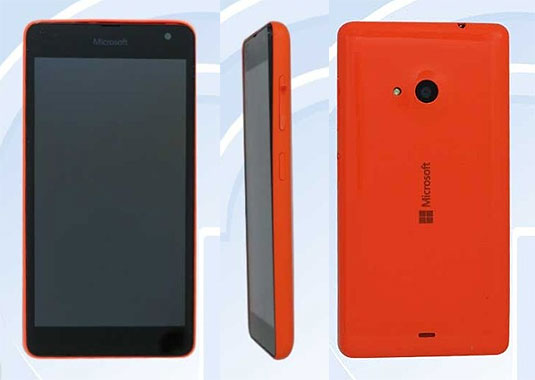 No "Nokia" in sight: Leaked images show a Microsoft-branded smartphone
No specs for the handset have been revealed, but based on looks alone it appears to be a midrange or budget-priced item, rather than a high-end device to challenge Android mobe-makers' flagship models.
The reason for the rebrand is clear enough. According to documents leaked in June, when Microsoft bought Nokia's devices and services business, it only secured the right to use the Nokia brand for smartphones through the end of 2015 (although it can keep making Nokia-branded dumbphones for ten years, if it wants).
Rather than wait until next year, Redmond spent the summer taking baby steps toward eliminating the Nokia brand from its smartphone line, starting with its websites in the UK and Europe.
In fact, if you follow the link to the blog post announcing the new Lumia, you'll notice that it's conspicuously branding-free at the moment. The Nokia name is mentioned but the company's familiar logo is absent, and a menu along the bottom of the page advises that the blog is "now part of Microsoft."
What's not yet clear is whether Microsoft's first own-branded Lumia will be billed as a Windows Phone device. The software giant is rumored to be planning to retire the Windows Phone name, in favor of referring to referring to all of its operating systems simply as Windows.
By dropping the Nokia name now, however, Redmond has given itself a full year to empty the channel of existing Nokia-branded Lumia models. Could deep holiday discounts be in the offing? ®