Vid+Comment If you wandered through San Francisco's Civic Centre Plaza on Thursday between 6pm and 6.35pm at the City Hall end, it would have been hard, though not impossible, to avoid a protest held against new net neutrality proposals.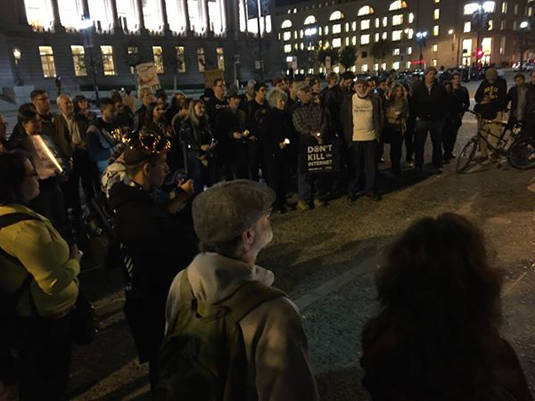 With just two days' notice, a turnout of 100 to 120 people is pretty good (although 333 said they would attend on its Facebook page). It was roughly the same size as protests held in another 14 cities across the US, including outside the White House.
They were protesting against a proposed "hybrid" plan provided to the New York Times by the FCC last week to gauge opinion over a plan to break what has become an increasingly rancorous debate over "net neutrality".
What do we want? Net neutrality! When do we want it? Now!
That was the basic chant, alternating with the more action-focused, though less realistic:
Hey Hey! Ho Ho! Tom Wheeler has got to go!
Tom Wheeler is, of course, the chairman of US watchdog the Federal Communications Commission (FCC) and, so more than anyone, the person responsible for putting forward a solution to resolve the dispute between large telcos, video-streaming websites and internet users.
While it's fair to point out that as former head of both the National Cable & Telecommunications Association (NCTA) and the Cellular Telecommunications & Internet Association (CTIA), Wheeler is unlikely to be seen as a neutral party, is seems somewhat unlikely that he'll be fired as FCC chair for having previous jobs.
NetNeutrality protest at San Francisco Civic Center from Kieren McCarthy on Vimeo.
This being San Francisco, the chanting soon dissipated into a fairly well informed discussion of the complex issues surrounding net neutrality. Most on the ball was speaker Tracy Rosenberg, executive director of Media Alliance, which is one of the organizations complaining vociferously about the proposed hybrid plan.
"So what's really going on?" Rosenberg teased. "The FCC never expected this level of public awareness and discussion. It's upset the traditional Beltway conversation of: 'how do we meet in the middle?' So you throw them a couple of bones to keep people happy. The problem is that the bones they are throwing are our internet. The folks that are doing this are well intentioned but they are dead wrong."
We'd say that was a pretty accurate, if simplified, rundown. There is no doubt that the FCC was not expecting the level of public interest it has received - much of it sparked by a very amusing segment on John Oliver's Last Week Tonight in which he urged people to flood the FCC with comments on the topic.
That level of public attention (four million comments) has made it politically difficult for the FCC to take a decision that was already going to be controversial.
But it doesn't remove the Washington reality that several of the most powerful and influential companies in the United States (who also have millions of customers) are bitterly opposed to making broadband networks so-called "Title II" or "common carriers", because it would impose additional rules and restrictions on them.
It's not clear that the FCC wants those restrictions either. The organization has a culture – which most people actually like – of being as pro-free-market as possible. If you stick Title II status (which originates from a piece of legislation approved in 1934 that runs to no less than 100 pages) on broadband, it will bring with it all sorts of overview and regulation that may not actually be that useful. A big chunk of the legislation is so old that large parts would have to be formally ignored (in the lingo "forbeared").
Let's not forget either than one of those powerful and influential companies – Verizon – took the FCC to court over its previous "Open Internet Order" rules. And won.