Wipro uses Nexenta to blast its way out of the hardware prison
Software-defined eclipses software-based
---
Comment India-based systems integration biz WiPro is using Nexenta storage in preference to Dell, EMC, IBM and NetApp, as a key to break hardware lock-in. Is Nexenta crossing the chasm from SMB land to become an enterprise storage software supplier?
Wipro is using NexentaStor software as the basis for a cloud-based Desktop-as-a-Service (DaaS) offering. Why should we be interested beyond registering it as a good customer win?
First of all, Wipro is a very large Indian multi-national business indeed; an IT consulting and system integration company with 147,450 employees servicing more than 900 Fortune 1000 and large enterprise customers. Wipro is capitalised at around $21bn and is the seventh largest IT services business in the world. It doesn't buy IT products lightly.
In May Wipro said it would base a user data storage infrastructure for tens of thousands of VDI users on NexentaStor. This will store data for Wipro's VirtuaDesk which uses a Citrix and Microsoft software stack to provide the VDI service.
For a VDI project for tens of thousands of users you would think a buying company would go for a low-risk established supplier, such as Dell, EMC, NetApp, etc. No, instead it's chosen what many of us might think of as sleepy old Nexenta, the ZFS-based storage software company.
VirtuaDesk is being integrated with NexentaStor to automate storage services for end users. WiPro believes this "provides end users with greater flexibility in hardware purchases, increased user profile access speeds and a lower total cost of ownership." The hardware purchase flexibility should mean cost reductions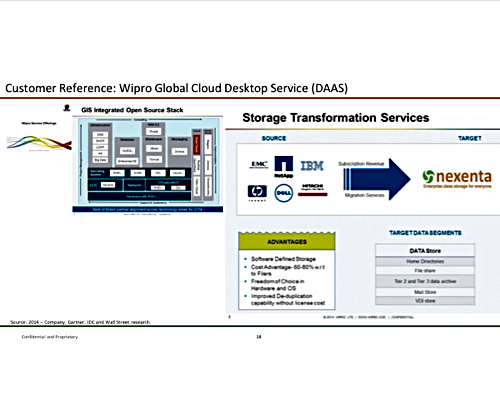 Wipro and Nexenta
Wipro general manager and VirtuaDesk practise head Andrey Zhulenev said in a canned quote that, with NexentaStor: "We can achieve great performance metrics while being able to scale the storage capacity without excess expense."
Wipro is working with Nexenta "on our internal Wipro company storage requirements and [offering] the same solution to our VirtuaDesk customers," according to Zhulenev.
The key here, it seems to me, is storage cost. With mainstream arrays cost/TB is high and software costs are relatively high too. Multiply these across tens of thousands of users and we're talking real money. If Nexenta's storage is attractive to use in its own right and opens the door to substantial cost savings, like millions of dollars over five years, then its use in enterprise projects with large storage costs will increase.
Every storage system supplier these days says it has software-defined storage. This is meaningless and a rubbish statement. Unless that software is bought independent of the supplier's hardware and available to run on other supplier's hardware it is software-based storage - a Gartner term - and not software-defined.
As Nexenta doesn't sell hardware then it's obviously software-defined.
There are four hardware-independent, software storage suppliers we might think of: giant Symantec; DataCore; FalconStor; and Nexenta. DataCore has thousands of loyal customers. FalconStor is coming back after a torrid time with CEO troubles.
We hear Nexenta is doing things with Hyundai and there is a promising deal coming in Latin America. It's supportive of OpenStack and registered as a Mirantis partner. It's got its object-based NexentaEdge and is working with Seagate's Kinetic drives. And Dell is reselling its software. Nexenta is working on EVO: RAIL with Supermicro.
Just maybe Nexenta is crossing a chasm from being just another storage software supplier with SMB credentials to becoming an storage software supplier to enterprises; enterprises exasperated with being taken to the cleaners by mainstream storage companies and looking for a storage software key to unlock the hardware prison they are in.
Is Nexenta that key?
Nexenta CEO Tarkan Maner thinks so. He told us: "Wipro and Nexenta are building leading best practice models to deliver next-gen data centre services. This is one of the cloud services for Wipro customers and how Wipro manages their infrastructure and how they save money while doing it via OpenSDx – open source collaboration and software-defined everything innovation!"
Since coming in he's rebuilt Nexenta's management ranks, recruited more people and the feeling of confidence in the firm's future is almost palpable. Maner and many senior execs don't get salaries, being "paid" in stock options instead.
That's commitment pig-and-bacon style rather than chicken-and-egg style.
The only way they will make money on the effort they are putting in is if Nexenta gets acquired or has an IPO. They believe the gamble is worth taking; a no-win, no-fee type of play. If sufficient enterprise customers like Wipro think along similar lines then Nexenta could become a far more important player on the storage stage. Keep an eye on it. ®