Boxing clever? Amazon Fire TV is SO CLOSE to being excellent
Telly box with gaming for the price of a tank of petrol
---
Prime numbers
A similar arrangement gives you access to Digital Concert Hall, an app from Berliner Philharmoniker offering concerts and live streams. A third party app called TV Player gives you access to Freeview channels including BBC, ITV, Channel 4 and Channel 5.
Fire TV streamed smoothly in my tests, and makes sense for Prime subscribers. Whether Prime is good value is moot. The free content exists; but search for a movie and most of the time it comes up as a paid option, even for older titles.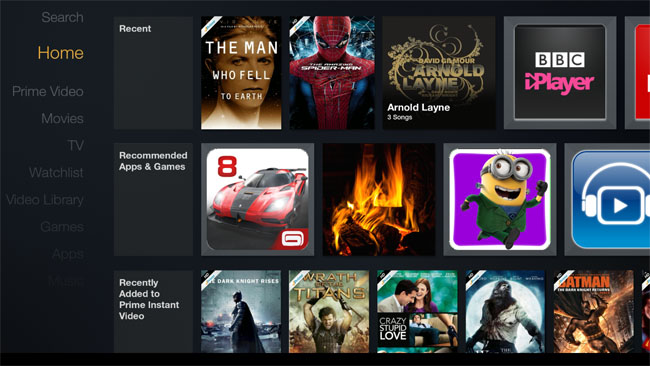 Home screen
Roman Holiday (1953): £3.49 to rent, £7.99 to buy. Gone with the Wind (1939): £2.49/£4.99. More recent offerings have their own quirks, for instance, Star Trek Into Darkness (2013) is £7.99 to buy but no rental option. The Dark Knight Rises (2012) on the other hand: watch for free with Prime. The best advice is to check out the list on Amazon's site and decide whether it is worth it for you.
Music is less well served. Fire TV connects to Amazon's cloud music service, which means anything you bought from Amazon MP3, auto-rip CDs (you buy the CD and Amazon automatically adds the MP3s), and up to 250 other tracks manually uploaded. However, there is no music store on Fire TV itself. I also found the selection of concert videos poor, whether free or paid.
There is a Spotify Connect app, but this is not full Spotify; rather, it's a receiver for Spotify played from your mobile or tablet.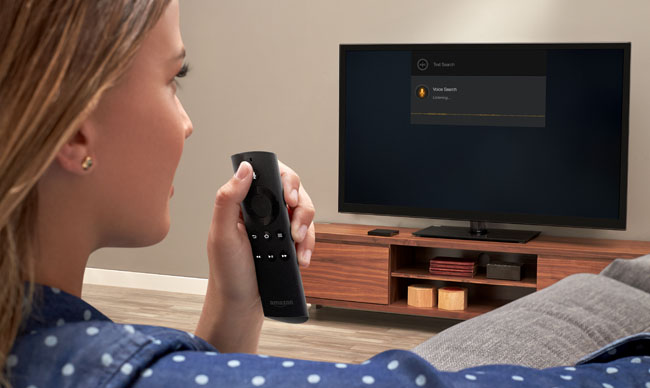 Voice remote: press and hold the button, speak a title and then let go to search
Fire TV has a few party tricks. One is voice search, which operates via a microphone built into the remote. Press and hold the voice button, speak, release, and your words go up to Amazon's cloud voice recognition service and back down to perform a system-wide search.
Voice search is mostly good. It does make sense for a sit-back experience, and searching for something like a movie, actor or app generally works first time. There are occasional frustrations. A search for "TuneIn Radio" is recognised as "Tune in radio" and does not find the app. That said, it works well enough for you to use it.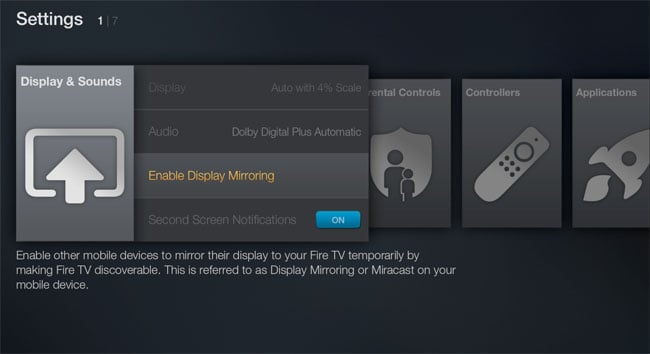 Miracast on the Fire TV: your mileage may vary
There is also an Amazon Cloud Drive app which you can instal on your Android or iOS device (Windows Phone users are out of luck) which automatically uploads your photos and videos, which then sync with Fire TV for viewing. A handy feature.
What about casting a screen from another device to the Fire TV? There are two separate features. Second Screen only works with Kindle Fire or HDX tablets, and lets you project photos or videos from the device to the Fire TV. There is also Miracast support, accessed through display settings, which in theory should let you project the screen from any Miracast-compatible device. I tried two, one Android and one Windows, and neither worked for me.