Boxing clever? Amazon Fire TV is SO CLOSE to being excellent
Telly box with gaming for the price of a tank of petrol
---
Cut-price console
An optional extra for the Fire TV is a Bluetooth-connected game controller. This is a solid affair, larger than the Fire TV itself, and relatively expensive at £35. It has a full array of controls: two analogue sticks, D-pad, 8 buttons plus three multimedia controls (play, rewind, forward), two triggers and two shoulder buttons.
Unfortunately the controller is so-so. The D-pad is stiff, the sticks are imprecise, and it lacks the polish of the best console controllers. The good news: I plugged in a wired Xbox 360 controller and it works perfectly, save for a few inessential missing buttons.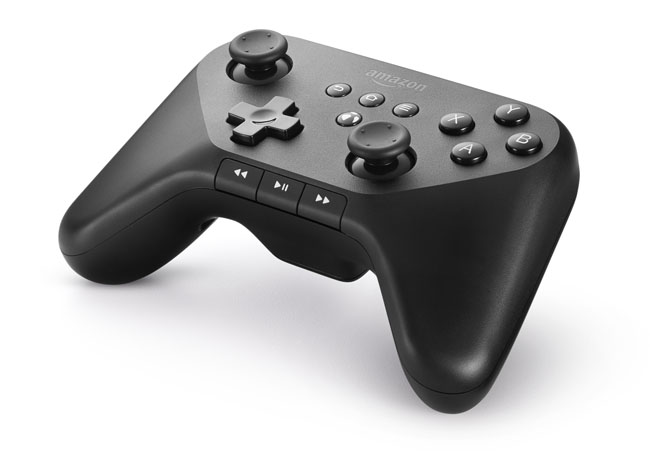 Optional extra: Bluetooth game controller
The idea of the controller is that it converts the Fire TV into a budget games console, with games priced at mobile app levels. Amazon even has its own game studios, and the controller comes with a free exclusive offering, a first-person shooter called Sev Zero, normally £4.99.
Hard core gamers will be snooty about this, but the graphics are good enough for Fire TV to have real potential as a low-end gaming box. Sev Zero is humdrum, but Asphalt 8: Airborne is good fun with the controller. Fire TV supports OpenGL ES 3.0 which means rich graphics are possible. The snag here is the weak ecosystem. The selection of games is small, and they are mostly designed for tablets and touch control, so whether the controller works as expected is hit and miss.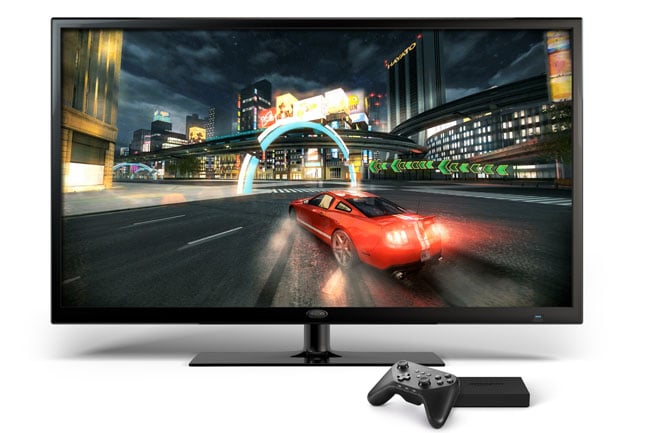 Positive spin: Asphalt 8: Airborne
The more time I spent with Fire TV, the more annoyances I discovered. The biggest issue, which is not Amazon's fault, is lack of third-party app support. Fire TV runs Fire OS 3.0 which is based on Android 4.2 (Jelly Bean); however it does not include Google Play Services. Apps are downloaded from Amazon's store and developers have to tweak their apps to run on Fire OS, and deploy them to Amazon's store. Most have not bothered, which is why the Fire OS store is sparsely populated. Going it alone is a difficult and largely friendless journey.
This could change if Fire TV takes off; but there are also things which Amazon could fix.
The USB 2.0 port does not support storage devices unless you hack your device and even that is proving more difficult with more recent Fire TV software blocking rooting. So, unlike the Roku 3 (that's £20 more), you cannot play videos from external storage. Amazon's guide states that "The USB port currently does not support any accessories," but this is not true; I plugged in a keyboard and it worked, as did the Xbox 360 controller. Attach storage though and you get nothing, though potentially an app might be able to access it.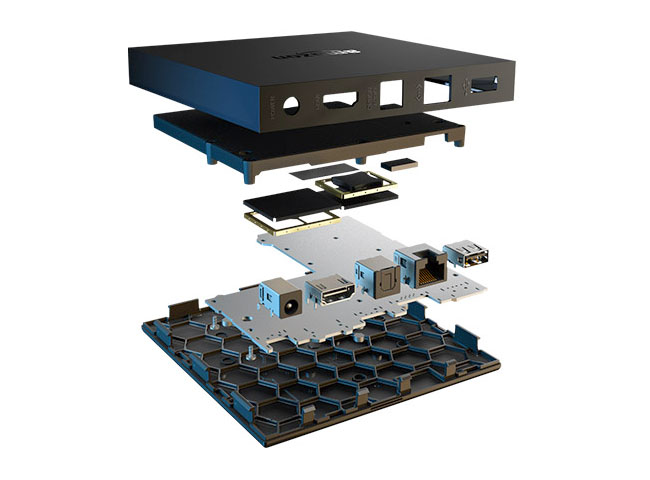 Hack and flash: rooting the Fire TV allows access to the Google Play Store and enables the USB port to work with storage media, but Amazon is keen to block the options to allow this
There is a mysterious lack of closed captions – text in movies showing the dialogue. The Help Tips state that pressing the menu button on the remote will display them, but I could not find an example where this works. The US listings for Amazon Instant Video show "cc" against titles that support captions, including, for example, The Dark Knight Rises.
The UK site has no instances showing the "cc", and when I played this Batman movie I could not make captions appear. It looks as if it does not yet work on UK models, though Netflix app users may be luckier.