Boxing clever? Amazon Fire TV is SO CLOSE to being excellent
Telly box with gaming for the price of a tank of petrol
---
Running out of stream
Just because the Fire TV spec shows Bluetooth, don't expect to be able to connect all your devices to it. For a start, there's no Bluetooth audio support. So if you thought you could stream music to it from a Bluetooth phone or tablet, think again. Likewise, gamers and solitary movie buffs will be no doubt disappointed to discover that the Fire TV can't stream soundtracks to Bluetooth headphones either.
Even though apps use a web view arrangement, there is no web browser on the device. That seems a missed opportunity especially given the very useable accuracy of the voice control. Even without it the user interface is reasonable for a sit-back experience but could be better; for instance, a zoom feature would be useful for text.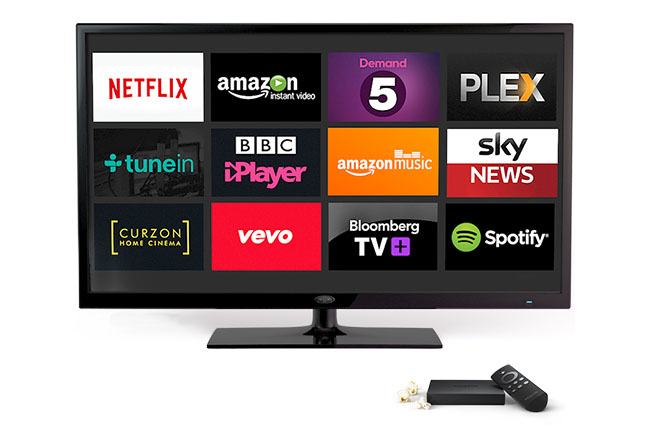 A glimpse of the UK services on offer
Out of the box, the Fire TV lacks the ability to stream media from your own network, so if you've a NAS box crammed full of your music and video files then you'll be frustrated here. Roku provides a simple media app that supports most formats apart from .AVI. The Fire TV has a Squeezebox player, among others to can overcome these shortcomings but overall, this level of compatibility could be much more refined.
And talking of refinements, surprisingly, there is no access to the Amazon Store, which looks like another missed opportunity and particularly annoying for those seeking some instant gratification music purchases.
While Amazon provides plenty of content to view on the Fire TV some of it is going to be below par, which is where user reviews can come in handy. However, browsing movies on the Fire TV gives no access to user reviews, which isn't very helpful. Go to Amazon's site, for example, and you can browse 1,170 reviews for Peter Jackson's The Hobbit. On Fire TV, nothing.
To add to the list of gripes, account management is a problem, too, as the Fire TV can only connect to one Amazon account. By default, everything on that account is available to any user of the device, including the ability to make purchases. You can limit this to some extent with parental controls, requiring a PIN to make purchases or blocking access to photos, but it is not fully thought through.

Growing pains: the Fire TV is clever in places and yet completely fragmented in other areas
The Reg Verdict
In use you get the impression there is plenty of promise here. Fire TV is a neat and well-specified device. On this score it easily beats Apple TV, Roku 3 or Google Chromecast in memory and processor. The out of box experience is good, especially for Prime members who mainly have streaming video in mind. Voice search and photo sync are decent extra features. Add to that the potential of the device as a budget games console, and you have a worthwhile and good value box.
The frustration is that Fire TV could be so much better. There are too many feature gaps, some down to immaturity and a weak ecosystem, some caused by Amazon's desire to promote its own content services, and some which are hard to explain, like lack of support for Bluetooth headphones. Certainly the Amazon Fire TV is a better proposition than a Fire Phone but it really needs to evolve before it can earn a full recommendation. ®

Boxing clever? Amazon Fire TV is SO CLOSE to being excellent
Now available in the UK, the Fire TV has decent hardware, but the Fire OS ecosystem and user experience needs refinement