This article is more than 1 year old
Array with you: Hybrid upstart Tegile kicks out new flashers
Two new all-flash arrays
Tegile has continued encroaching into all-flash array territory with two new products, and is attacking Pure Storage's FA-450 product directly in its market positioning.
The T3600 and T3700 models fit above and below the existing T3400, with all three below the T3800.
Overall the T3000s function as performance-focused alternatives to Tegile's hybrid HA2000 series of products. Positioning the four T3000s is easy enough. they all come in 2U boxes and are ranked on raw entry-level storage capacity.
T3600 - 9.6TB
T3700 - 24 TB
T3400 - 26TB
T3800 - 48TB
With just 2TB raw capacity difference between the existing T3400 and newer T3700, you might imagine the older product is effectively replaced, although Tegile doesn't say this.
It suggests there is a 5x multiplier across its range to reach the effective capacity after deduplication and compression, but that depends upon the application's data characteristics. You might get less, or more even.
Tegile also says its products have 2X better $/IOP, 3X better $/GB and TB/U, and 30X better endurance than Pure's FA-450 – those are some fairly aggressive numbers.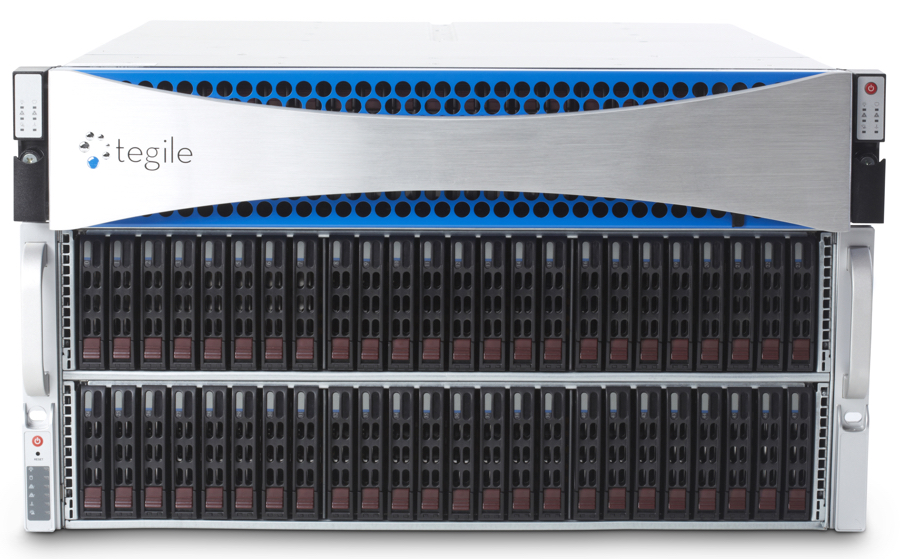 Tegile all-flash array with two expansion shelves
The company has updated its IntelliFlash management software to v3.0, shortening some provisioning times by 50 per cent, adding encryption for data at rest with self-encrypting drives, and the optimisation of app performance profiles. It's also improved support through its IntelliCare service.
We asked Tegile's marketing VP Rob Commins some questions about its all-flash array strategy.
El Reg: How can Tegile, with its SSD use, equal the efficiency of Violin arrays with Violin's deeper knowledge of flash from its VIMM technology?
Rob Commins: Violin invested to develop flash controller technology (VIMM) at a time (since 2005/2006) when enterprise SSD controller technology was still nascent. Their controller design focused on flash wear levelling and system-wide garbage collection which together deliver good endurance and consistent latency from consumer MLC flash. Consistent latency under load is achieved by orchestrating garbage collection and RAID in tandem.
Over the last five years, SSD flash controller technology has dramatically improved to deliver high resiliency and endurance per SSD. The SSDs that Tegile procures from HGST and SanDisk are eMLC (enterprise MLC). These drives are rated for 3 to 5 drive writes per day and have an order of magnitude more flash endurance (30,000 P/E cycles vs. 3000 P/E cycles per flash page) than [the] consumer MLC flash that Violin uses.
Instead of focusing on flash controller technology, Tegile has invested a great deal of resources and time to develop their IntelliFlash software stack to optimise for high resiliency, endurance and consistent latency. Tegile leverages the flash controller technology in the SSDs for wear-levelling and data grooming but uses its IntelliFlash software (and x86 CPUs) to deliver flash-optimised RAID and orchestrate system-wide garbage collection. IntelliFlash uses specific APIs to SSD flash controller to get deeper insights into the SSD and orchestrate relevant actions.
These lower-level flash optimisations enable our systems to deliver excellent performance on flash. Add to that our highly optimised data reduction (compression and dedupe) with our Metadata Acceleration techniques and a full complement of data management (snapshots, clones, replication, thin provisioning, etc) and Tegile systems deliver tremendous value to customers.
El Reg: How does Tegile's single box, all-flash offering compare and contrast to Violin's three-box offering in terms of user benefits?
Rob Commins: As stated above, Violin's focus since the early days has been on building great hardware. The data management software has been an afterthought. Hence the need for a three-box solution. The two additional boxes (standard Dell servers) act as controllers which run software that they acquired ... from a storage software company. So, they have slapped on data management software and have done little-to-no-optimisation to truly leverage their hardware uniqueness.
Tegile, on the other hand, has focused since the beginning on extensively leveraging x86 CPUs and optimised its IntelliFlash software for data layout, RAID, data management and data reduction to handle the nuances of flash. Hence we are able to deliver an all-flash array (in a single box) with a comprehensive portfolio of data management.
The benefit to the customers:
Consistent performance with all data management and data reduction in line,
Better economics to the customer from using standards-based technologies,
Smaller footprint (48TB RAW in 2U) when compared with Violin's 3-box solution (64TB in 7U (3U+2U+2U)),
5:1 data reduction for server virtualisation and databases and over 10:1 for VDI deployments,
All software bundled into the base system for no additional charge.
El Reg: Is Tegile, with total funding of $47.5m, woefully underfunded compared with Pure ($470m - 10 times more) and SolidFire ($150m).
Rob Commins: We are growing quite rapidly (new customers, more repeat business, larger and more systems installed, new geographies, more sales and marketing teams, R and D expansion) and we certainly expect to raise more capital to build and scale our business. We are scaling to build a sustainable business that delivers tremendous value to our customers, investors and our employee base.
El Reg: What is Tegile's market positioning, and how will Tegile compete successfully compared to EMC (XtremIo), NetApp (EF series and FlashRay), IBM (FlashSystem), HP (3PAR 7450), Dell (all-flash Compellent) and HDS (Flash Acceleration Modular in VSP) and also Cisco (Invicta).
Rob Commins: With a comprehensive product line architected for flash, we have several advantages over the listed competitors. Most significantly, unified access across block and file protocols that are not layered, but peer each other, and in-line deduplication and compression acts as an efficiency driver as well as a force multiplier in performance, and an extensible architecture that will implement faster performance and more efficient media in our performance and capacity layers, respectively. Having both all-flash and hybrid systems running on the same IntelliFlash OS is also a material differentiator.
El Reg: Can the hybrid and all-flash Tegile products be combined in some way, such as a cluster? What benefits does that bring?
Rob Commins: Absolutely! Every system can accommodate flash and HDD. You can start with an all-flash array and should you choose to add HDD shelves to it at a later point in time, you can easily do so. Carve out some flash from the existing pool and use that as the "high performance layer" for the HDD pool. It's extremely easy to dial up or down flash in our Intelligent Flash storage arrays. You can start with a hybrid system and decide to add a shelf of SSDs only and create pools of All-flash storage.
The benefits:
Optimise performance and economics for different kinds of applications – eg, low latency apps (databases, high-IOP virtualisation) on all-flash and
Medium latency on hybrid (lower $/GB than All-flash).
El Reg: Will Tegile eventually look at adding tier 2 data storage capacity?
Rob Commins: We have that capability today. For hybrid you can add more HDDs to change the ratio of flash to HDD.
For all-flash, you can use higher-performance flash along with dense flash to further optimise for latency and economics.
El Reg: What does Tegile think of hyper-converged offerings with virtual SANs/filers?
Rob Commins: There is clearly a market for converged offerings. We believe that converged offerings tend to be specifically use-case focused and for smaller sized deployments. For larger scale consolidation, customers still want to deploy storage separately from compute (and virtualised software platforms).
+Comment
Tegile is deadly serious about taking on all-flash array startups and mainstream suppliers from its hybrid array base. Kudos for chutzpah. The product messages Commins supplies are solid and if the products perform as well as he says with the price/performance he says apply, then they should rate highly in customers' thinking.
Early success with these new products should galvanise the raising of additional capital which would translate into faster business infrastructure and product development. ®