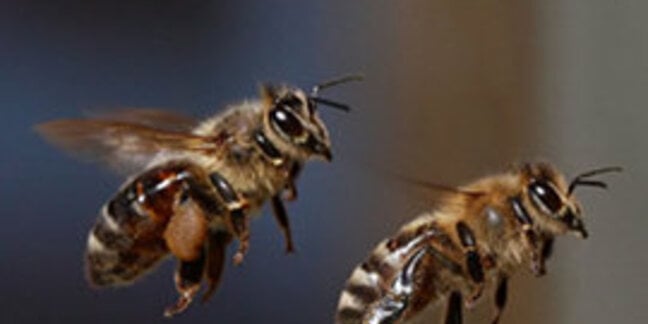 Boffins who believe that the world's climate is warming have uncovered new findings that they think could strike a serious blow to crop productivity: horny bees.
Researchers from the University of East Anglia, Reg readers may want to take note, used Met Office climate records as part of their study. So we bring this information to you along with some serious side-eye glances.
They compared that data with the historical records of the flowering time of the Early Spider Orchid (Ophrys sphegodes) and museum specimens of a solitary bee (Andrena nigroaenea).
However, where the climate was found to be warmer in the early stages of Spring, bees were sleepily wrapping their fuzzy bodies around their female counterparts, even though the orchids had already flowered, the scientists said.
"These orchids have evolved so that when Spring comes, their flowers appear at the same time as this specific bee – making pollination possible," said researcher Dr Karen Robbirt from the uni's school of biological sciences. She added:
But we have shown that plants and their pollinators show different responses to climate change, and that warming will widen the timeline between bees and flowers emerging. If replicated in less specific systems, this could have severe implications for crop productivity.
Lead researcher Professor Anthony Davy explained that, under normal conditions, male bees fall into the so-called "pseudocopulation" trap. In other words, they are hoodwinked into pollinating orchid flowers.
He claimed that climate change appeared to show that this game of deceit nature plays on bees can be rudely disrupted.
The prof, who – among others – worked on the research with the Royal Botanic Gardens, Kew, which helped fund the project, said:
Warming by as little as 2°C causes the males to emerge much earlier, meaning they are less well synchronised with the orchids. The problem is compounded by the female bees which are also emerging earlier, and attracting the attention of the male bees. This means that the male bees are more likely to copulate with the female bees, rather than pollinating the orchids.

There will be progressive disruption of pollination systems with climatic warming, which could lead to the breakdown of coevolved interactions between species because they either respond either to different seasonal cues, or to the same cues at different rates.
The Potential Disruption of Pollination in a Sexually Deceptive Orchid by Climate Change paper was published in the Current Biology journal on 6 November. ®
Sponsored: Ransomware has gone nuclear