This article is more than 1 year old
Interstellar: An awesome sci-fi spectacle – just cut the hamminess, please
Christopher Nolan ramps the epic factor up to self-consciously irritating
Film Review The weight of expectation is a heavy burden and thanks to a clever information-withholding marketing campaign, the formidable Batman trilogy and the eye-opening Inception, Christopher Nolan's space epic Interstellar has more than its fair share. Perhaps it's no surprise, then, that it buckles somewhat under the pressure.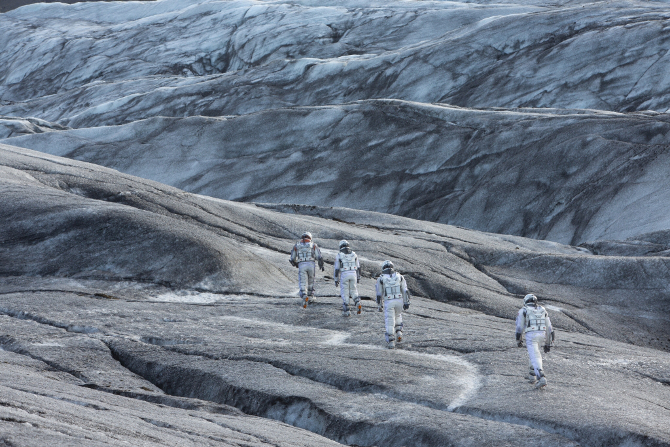 Nice view. Credit: Interstellar/Warner Bros UK
While the movie is just as awesome a spectacle as his previous outings and the teasers and trailers would have you believe, Interstellar commits the classic epic sin of taking itself far too seriously. Every line is clunkily fraught with meaning, every tiny event carries a camera-lingering significance that just gets a bit much after a while.
Sure, Matthew McConaughey has to save the whole world and everything, but is there no time for even just a little fun along the way?
The Earth is in turmoil, all the crops are dying of blight and everyone is doomed, so admittedly, it's not a particularly cheery premise. In the midst of this is McConaughey's ponderous farmer Cooper, who should have been a NASA astronaut and engineer, but now struggles to grow corn like everybody else.
In fact, things are so utterly focused on growing food that any other kind of progress or investment has halted. The only machines around are for farming or helping to farm – there aren't even hospital machines anymore because saving people from dying in any way other than feeding them is apparently a waste of resources.
It's all a bit bleak and mildly nonsensical, but hold up, there's some M Night Shyamalan-style antics going on in Cooper's daughter's bedroom. Murph (Mackenzie Foy) is convinced it's a ghost, but no, turns out, it's gravity and gravity has a message, a message for Cooper. That message takes Cooper to his old mentor Professor Brant (Michael Caine), who's putting together a mission to try to save everyone by finding them a new planet to live in.
NASA is still operating, it's just a secret now and they've been working hard in their secret underground lair. And wouldn't you know, Cooper was the best pilot he ever had, so he's going to sign him up right now to captain the whole thing.