This article is more than 1 year old
Zuck on The Social Network: Nobody wants to watch my REAL life for 2 hrs straight
'Probably wouldn't have been that good of a movie'
Mark Zuckerberg has once again trashed David Fincher's candid portrayal of the Facebook co-founder's life in his 2010 film The Social Network.
The 30-year-old, free content ad network boydroid accused the filmmakers of embellishing his time at Harvard University, when quizzed about the movie during the company's first, heavily stage-managed Q&A session with the public.
Zuck said:
Wow. I haven't spent a lot of time thinking about that movie in a while. I kinda blocked that one out. It was a very interesting experience to watch a movie that was supposedly about my life ... supposedly.

I think the reality is that writing code and building a product and then building a company actually is not a glamorous enough thing to make a movie about.

So you can imagine that a lot of the stuff they probably had to embellish and make up.

If they were really making a movie, it would have been of me, sitting at a computer coding for two hours straight, which probably would have just not been that good of a movie and these guys, I think, want to win awards and sell tickets.
The more astute readers among you may have noticed Zuckerberg's use of language here: he was careful not to outright make the claim that The Social Network portrayal was a complete work of fiction. See how he slips in the word "kinda" in this next passage:
They went out of their way in the movie to try to get some interesting details correct, like the design of the office. But on the overarching plot in terms of, y'know, why we're building Facebook to help connect the world or how we did it, they just kinda made up a bunch of stuff that I found hurtful.

I take, y'know, our mission really seriously. We're here, not primarily to just build a company, but to help connect the world and help people stay connected to people they love ... we take that really seriously.
Zuck went on to say:
"They kinda made up this whole plot line about how I somehow decided to create Facebook to, I think, attract girls."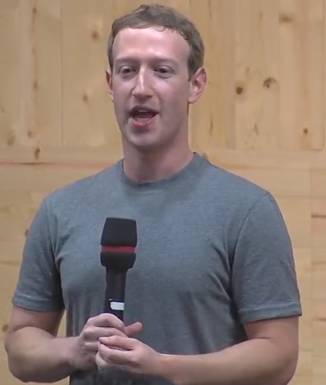 Everybody hurts ... Zuck
He disputed that aspect of the movie, too, by offering up some "context" about the woman he was dating at the time – Priscilla Chan – who is now his wife. He told the audience that, had he been pursuing other women while seeing Chan then "that probably would not have gone over too well in my relationship."
Zuck added: "There were pretty glaring things that were just made up about the movie that made it pretty hard for me to take seriously."
Earlier in the chat, the billionaire – who built the network in his Harvard dorm in 2004 when he famously described the people entering their details into the site back then as "dumb fucks" – defended Facebook's decision to create a separate Messenger app.
"Asking everyone in our community to install another app is a big ask," he admitted.
"The reason why ... we really believe that is a better experience and we think that messaging is becoming increasingly important."
Zuck said that more than 10 billion messages were sent everyday on his siloed network.
"We knew we could never deliver the quality of service inside the Facebook app," he added. "If you're using messenger you respond to messages much faster."
Zuck went on to use an anecdote about contacting friends of his on Messenger recently when he wanted to arrange a trip to the flicks. Had they not had the app, the copper-haired, be-hooded one said he might have ended up in the cinema alone.
Presumably, he wasn't hoping to watch a re-run of The Social Network. ®