This article is more than 1 year old
Danish lit star Helle Helle, Marianne Faithfull and Jim Al-Khalili on Quantum Biology
Nordic noir, rock chick reflection, weird science
Page File El Reg bookworm Mark Diston reviews the latest releases from the publishing world. Helle Helle proves a master of understatement while Marianne Faithfull's recollections seem large than life. And talking of life, scientists Jim Al-Khalili and Johnjoe McFadden shed light on the latest thinking on its mysteries.
This Should be Written in the Present Tense
Helle Helle is a prominent Danish novelist and the author of eight books including the wonderfully titled: The Idea of an Uncomplicated Life with a Man. Her book This Should Be Written in the Present Tense is the first from this author to be translated into English.
The story focuses on Dorte Hansen, a young woman who appears to sleepwalk through life, just taking it as it comes. On the surface her story is apparently mundane, but Helle Helle's beautifully pared down sentences allow the reader to easily absorb the text and read between the lines.
She seems to give away some of her stylistic secrets towards the end, using a minor character, a "writer of short prose" who tells Dorte and one of her friends: "That's how I work, anyway. I'm always asking myself why does that have to be there … and if I can't find a reason it goes."
Dorte is 20-year-old country girl trying not very successfully to study literature at university in Copenhagen. She has left her boyfriend and family behind and is cast adrift, living in a bungalow by a railway line in an unfashionable part of town.
This Should Be Written In The Present Tense is the story of her chance encounters with casual lovers, her insomnia, the people she encounters and her first attempts at writing: "I didn't know what to do with myself or how to go on."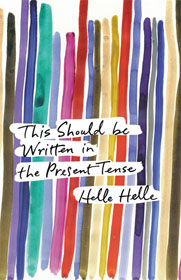 Dorte has another literary lesson from the writer of short prose, whom she informs:
"Sometimes things happen."
"Yes," she said, "But that's only in reality. And here we're talking about fiction."
Dorte's relationships with men are superbly written. Here she is getting existential, on the verge of breaking up with her boyfriend, Per:
"I can't bear the thought that we're so young."
"For what?"
"For everything, for this. We're just waiting for it all to fall apart."
A few days later she leaves him on her bicycle: "I went back to the bike and tried to pedal home from memory. It fell short and I got lost. There were run down cottages with open doors and news on the radio. Gulls flocked around an early harvester in the late sun."
Dorte's insomnia is explained thus: "Whenever I managed to sleep, I had nightmares about murders and ferries that sank. Ice drifts and people that couldn't be trusted." I can divulge that the title is the penultimate sentence of the novel without giving too much away.
Helle Helle is a beautiful stylist. This Should be Written in the Present Tense has an atmosphere that is deeply mysterious whilst staying entirely naturalistic – reminiscent of some of the less far out works of Marguerite Duras or Anna Kavan. Indeed, the kind of female writers who used to be published by the likes of John Calder, Marion Boyars and Peter Owen in the 1970s. I can recommend this book to lovers of quality literature whatever their gender, species or orientation.

Author
Helle Helle
Title
This Should Be Written in the Present Tense
Publisher
Harvill Secker
Price
£12.99 (Hardback)
More info
Publication web site