+Vid & Pics The men – and woman – in orange explained to me that the Network Rail "New Measurement Train" isn't new. It's a converted Intercity High Speed Train which has been in operation for more than ten years in this form, and it is used for running new tests for checking the condition of the track.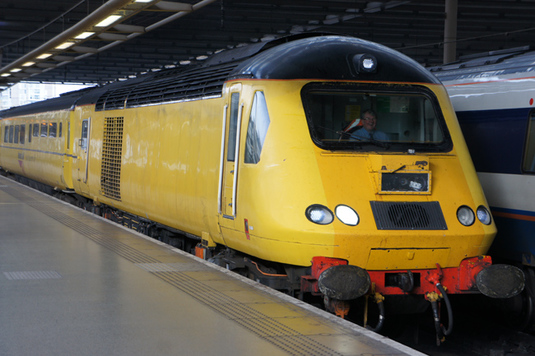 The hi-res camera on this Class 43 power car is equipped with a framegrabber. All external modifications require strict approval.
It's the flagship (flagtrain?) of the 17 bits of "yellow plant" which Network Rail uses to keep tabs on the state of the rails and all the infrastructure which helps the British railways run. For all the commuters' complaints about late and overcrowded trains there is plenty of solid engineering around, much of it as pioneering today as when the Victorians connected the country with the new technology of steam.
Government-owned Network Rail runs the British railway system. It owns the track, stations and all the other bits except the trains. Those belong to the TOCs (Train Operating Companies, for passengers) and Freight Operating Companies. Welcome to a whole new world of acronyms.
These trains are very much a special case for Network Rail, which doesn't have any passenger trains of its own. The New Measurement Train (NMT) and its kin are unusual in being rolling stock which is owned by Network Rail.
The NMT has two MTU V16 4000 R41 diesel-electric engines (one in each Class 43 power car at each end of the train), two messing cars, a meeting room (which was repurposed from the original 1970s "High Speed Train" prototype) and two carriages where the actual monitoring is done, which are equipped with computer benches and 19" racks. It's Sheldon Cooper's holodeck fantasy.
Yet their purpose is very serious. A derailment of a freight train a year ago caused part of the North London Line to be closed for six days, and it's precisely the kind of faults which are suspected of causing that derailment which the NMT looks for. It supplements walking the line to inspect the track but it's capable of doing so at 125mph.
There are other track inspection trains but they are not high speed sets. These other measurement trains run at a more sedate pace – typically 30mph – and do jobs which cannot be done at high speed, such as measuring the voltage on overhead lines and using ground penetrating ultrasound, which inspects the condition below the line.