Pics A new Raspberry Pi model has arrived, and it's even smaller and cheaper than the original, while being in most respects just as good. However it does come down to just one USB port.
The A+ was spotted in the wild over the weekend, only for a product page at Element14 describing the computer to disappear.
RS Online's Australian site listed the A+ in the wee hours of the British morning at a price of AU$41.00. (US$35.56, £22.37 and €24.48). The A+ has since appeared on RS Online's UK site at an even £20.00.
The Pi guys have since made it official: the A+ is upon us and has the following specs:
Broadcom BCM2835 700MHz ARM1176JZFS processor with FPU and VideoCore IV dual-core GPU
512MB SDRAM (Model B+), 256MB SDRAM (Model A+)
HD 1080p video output
Composite video (PAL/NTSC) output
Stereo audio output
10/100 BaseT RJ45 Ethernet socket (Model B+)
HDMI 1.3 & 1.4 video/audio socket
3.5mm 4-pole audio/composite video out jack socket
1 x USB 2.0 socket (Model A+)
15-way MPI CSI-2 connector for Raspberry Pi HD video camera (775-7731)
15-way Display Serial Interface connector
MicroSD card socket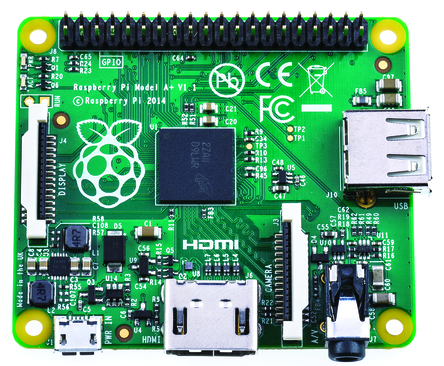 The Raspberry Pi A+, seen from above
That makes the A+ just about a clone of the B+, save for the amount of RAM – the A+ has 256MB compared to the 512MB on the B+ - and in terms of size.
The A+ abandons the Pi's credit-card looks for a squatter and flatter 66 x 56 x 14mm, with the reduction in size made possible in part by adoption of Micro SD cards for the boot drive and the inclusion of just one USB slot.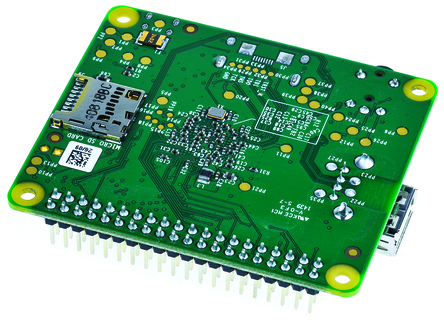 The Raspberry Pi A+'s shapely rear
The arrival of the A+ doesn't mean the end of the model A. Pi founder Eben Upton wrote to tell us "The big news is that we've cut the price to $20 from $25 for the old Model A."
Upton's dead chuffed with that price.
"When we announced Raspberry Pi back in 2011, the idea of producing an 'ARM GNU/Linux box for $25' seemed ambitious," he writes, "so it's pretty mind-bending to be able to knock another $5 off the cost while continuing to build it here in the UK, at the same Sony factory in South Wales we use to manufacture the Model B+." ®
Similar topics