Russian domestic internet traffic has in the past year sailed through Shanghai due to routing errors by China Telecom, network boffin Doug Madory says.
The apparent networking gaffe appeared to stem from a BGP peering deal between the telco and top Russian mobile provider Vimpelcom to save money on transit operators.
Dyn research internet analysis director recapped instances of Ruskie data funneling through China.
"During [one] incident, over 7000 routes from Vimpelcom's customer cone were globally announced by China Telecom," Madory said in a post.
"The August 5 event was one of the times that China Telecom briefly announced nearly a full BGP table [of] 326,622 routes to Vimpelcom, placing itself in the path of outbound traffic from Vimpelcom to the outside world — including Russian routes.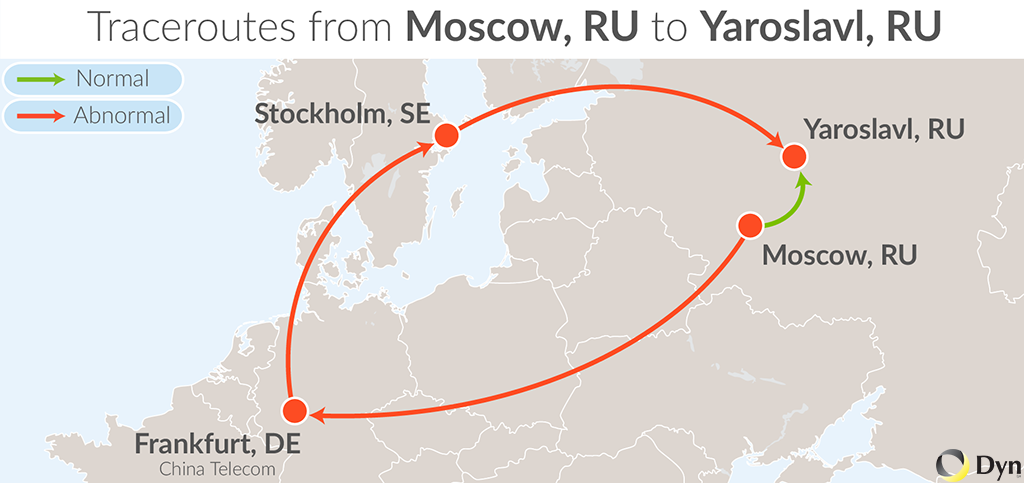 "The traceroute (below) shows Vimpelcom taking traffic to Frankfurt, handing it over to China Telecom which takes it to Shanghai before handing it over to Chello Broadband, which peers with China Telecom in Los Angeles. Chello then takes it from New York to Frankfurt again and then into the German countryside.
Traceroutes from Moscow to other Russian locales were also pushed through China Telecom infrastructure in Frankfurt and back to Russia.
"If this routing arrangement is intended to provide Vimpelcom low-latency access to the Far East, it isn't working that well," he said.
Such routing errors were common but much less publicised than major BGP incidents where a large number of user traffic was incorrectly routed.
While human error appeared to be the most likely cause of the gaffe, privacy and security concerns from wire snoops remained, Madory said.
He said telcos were often unaware of the routing errors meaning it could persist longer than catastrophic incidents which were typically nipped quickly.
The Shanghai shenanigans were not the first fat fingered BGP bungle to be published this year. Indonesia's Indosat rendered possibly thousands of networks dead ducks after it announced itself as its route.
In November last year, truck loads of traffic was shot through far-flung places sparking fears of interception and survelliance, Dyn Research found. ®
Similar topics