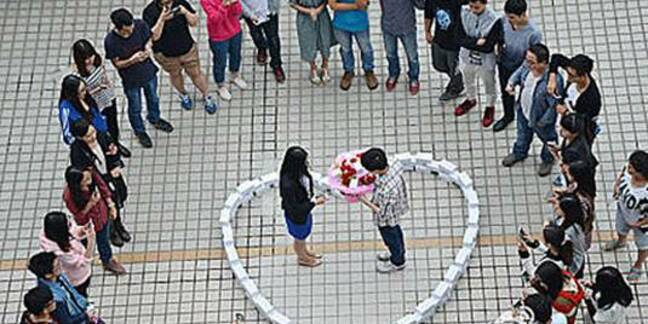 A Chinese software developer learned the hard way that money can't buy you love, even if you invest it in iPhones – or 99 of the things, to be precise.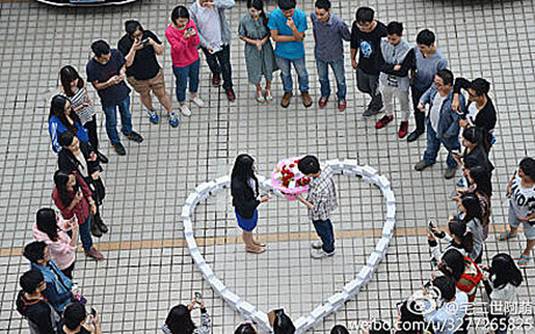 "Will you do me the honor of.." No!"
The unnamed technology worker from Guangzhou spent over RMB 500,000 (around $82,000) buying up 99 iPhone 6 handsets and then painstakingly used the boxes to build a white heart in the middle of a shopping center, surrounded them with his friends, and then invited his girlfriend to step inside and proposed to her.
So far, so romantic. But it appears to have been less than successful, as Tencent News reports that the young lady in question turned him down flat.
Lest you think this kind of madness is a sign that Chinese consumers can be just as needlessly profligate as their American counterparts, there was method to the poor chap's madness. November 11 is Singles Day in China, a semi-official celebration by singletons across the Middle Kingdom to get together, party, and maybe find that special someone, or propose to someone instead.
The date comes from the date numeric – 11.11 – and began as a university tradition before spreading to become one of the biggest shopping days of the Chinese year. Aside from shopping, young people crowd into karaoke bars for parties, and participants often start the day with four deep fried dough sticks (or Youtiao) with a stuffed bun to signify the dot in the date.
If 99 iPhones couldn't win the young lady over then the programmer should maybe have bought Xiaomi handsets instead, since they are both cheaper and more popular than Apple in China. But in the meantime he's likely to be spending a lot of time selling slightly used handsets online. ®
Sponsored: Practical tips for Office 365 tenant-to-tenant migration