This article is more than 1 year old
Bendy, but hangs loose too: Lenovo Yoga Tablet 2 10-inch Android tab
Fit for purpose?
Review When I reviewed Lenovo's original Yoga Android tablet I was impressed by the design but underwhelmed by the technology within. Now Lenovo has released its successor, rather predictably called the Yoga 2.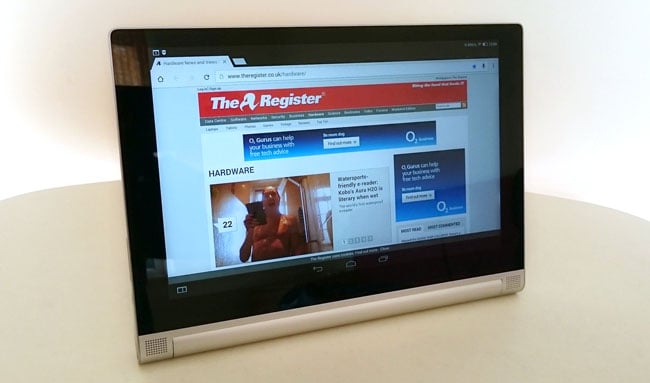 A 10-inch fondleslab with a difference: Lenovo's Yoga Tablet 2
Although it looks rather… make that very … similar, it is in fact much, much better in every significant way.
First off, we have computing power. The original Yoga 10 was hampered by the rather feeble Mediatek MT8125 chipset and 1.2GHz quad-core Cortex-A7 processor. The new machine packs an Intel Atom Z3745 quad-core chip running at between 1.33GHz and 1.86GHz depending on the task with 2GB of RAM. It's a slightly tuned version of the same SoC used in the Tesco Hudl 2 as the graphics chip can run at a maximum of 778MHz rather than 646MHz and gives very similar levels of performance.
Run the AnTuTu benchmark and you'll see the Lenovo score around 1,500 points more that the Hudl 2 at just over 32,000. Those extra points are rather irrelevant but they do underline that the Yoga 2 is yet another Intel x86-powered Android machine, every bit as quick as the best ARM devices.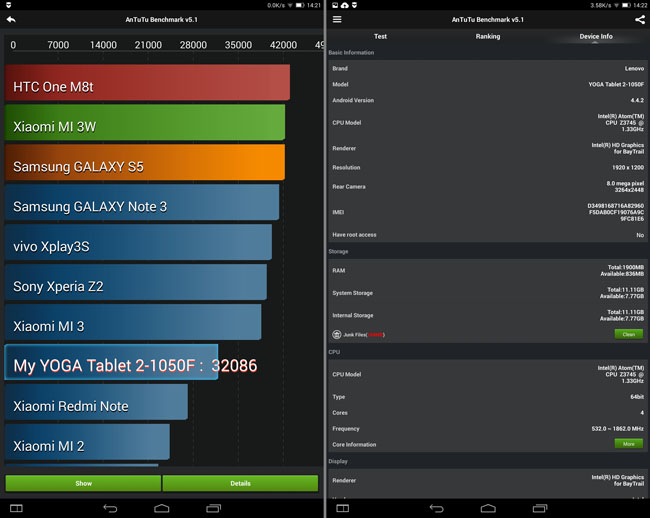 AnTuTu score beats Hudl 2 by 1,500 points – click for a larger image
That 2GB of RAM pays a dividend too. Just as with the Hudl 2, the Yoga 2's UI is as silky smooth as warm massage oil running off the back of an oriental courtesan. Even when the system is busy updating apps in the background.
The screen has been vastly improved, too. The 10.1 IPS panel now boasts a resolution of 1200 x 1920 and as a result looks much crisper than the Yoga 1's 800 x 1280 panel. Technically the screen is more colourful than before and shows much better levels of saturation. Viewing angles are as strong as ever, which is just as well given the form factor. Indeed, the external design of the Yoga 2 is a classic case of "if it ain't broke, don't fix it."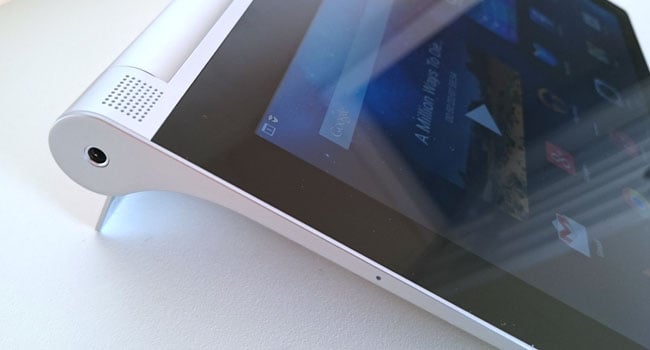 The battery bulge gives it an edge in more way than one
So what you get still looks like a regular 10-inch tablet with a tube stuck to the bottom. That bulge houses a 9,000mAh battery, forms the hinge for the integrated stand and contains a pair of very tuneful, very loud speakers. The speakers in the original Yoga were merely OK. Those in the Yoga 2 are quite excellent. As before, that rounded end makes the Yoga a very comfortable device to hold in one hand.