Structural storage industry changes green light Cisco
No legacy drag and server-led opportunity
---
Structural changes in IT and storage technology are green lighting opportunities for Cisco as it has no legacy storage products holding it back and server-led storage opportunities are growing and growing.
William Blair analyst Jason Ader has issued a note called "Day of Reckoning for IT Infrastructure Is Near" which talks of "massive secular disruption in the IT infrastructure market," secular being analyst-speak for long-term and fundamental changes as opposed to cyclical changes, such as seasonal trends.
Because of these changes "consolidation is inevitable, historical partnerships increasingly lose relevance, and activist and private equity investors gain greater sway." Seem familiar?
The IT industry restructuring era has already started;
Dell has gone private
HP and Symantec are each splitting in two
IBM has sold off its PC, server and semi-conductor operations
Activist investors gave their hooks into EMC, Juniper, NetApp and others
Tibco and Compuware have been the subject of private equity takeouts
Ader says "The magnitude of industry change has taken many vendors by surprise and has left some in denial - a situation that occurred during previous technology transitions (mainframe to minicomputer from the 1970s to mid-1980s, minicomputer to client-server from the mid-1980s to late 1990s, and now client-server to cloud, starting in the 2000s). This is a textbook example of the "innovator's dilemma," in which incumbent vendors often fail to make the bold moves necessary to address disruptions in their markets, in the hopes of protecting their mature and lucrative businesses."
What are these changes?
Ader identifies the public and private cloud, software-defined architectures, white-box hardware products and open source software. These play into enterprise customer desires to control runaway IT spending and lower costs within the IT budget, helpful to vendors offering subscription pricing and pay-as-you-go business models.
The impact of the cloud will have four aspects:
It will limit vendor pricing over time as spending becomes more concentrated with a small number of large, powerful customers,
Higher utilisation rates of cloud infrastructure will create a persistent headwind to hardware and software capacity requirements,
Cloud companies are more likely to employ white-box and software-defined architectures to power their data centres,
Cloud services are typically defined by consumption-based or subscription pricing, which can often be disruptive to traditional infrastructure vendor business models.
White box products "decouple software control and intelligence from the underlying hardware of a computing, storage or networking device" and so disaggregate existing product stacks and lower margins. If the hardware is the same between white-box and integrated systems, why should customers pay a premium for integrated systems?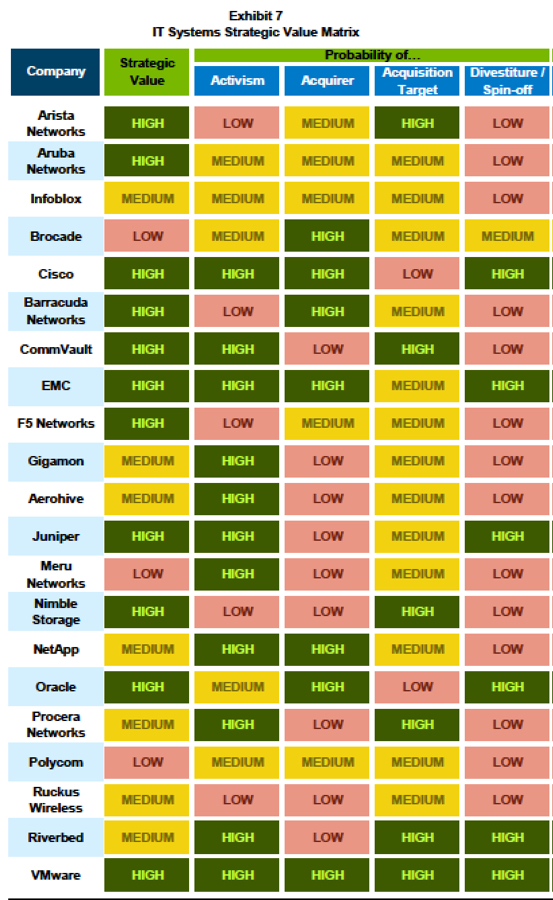 Our amended version of Ader's strategic value matrix for selected IT system system suppliers. Click image to enlarge it.
Dell is responding well here, he says, as the "recently introduced ... XC Series of Web-scale Converged Appliances [are] essentially white-box Dell hardware integrated with Nutanix software."
Vendor consolidation is overdue
Ader reckons that one large vendor response is to build vertically-integrated (consolidated) product stacks as a way to increase margin. This will boost pressures for industry consolidation.
But, he writes;
We have frankly been surprised by the lack of vendor consolidation in the sector over the last few years. Our best guess as to why consolidation has been slow to occur: potential acquirers and targets have been trying to make sense of all the industry changes and trying to understand how much of the issues are secular versus cyclical. We suspect that more companies large and small have come to realise that the IT industry changes are secular, and thus an improving economic environment will not be the antidote.
Why is Cisco well-placed?
Ader asserts that "Cisco is the "best house in a bad neighbourhood," as networking faces fewer headwinds than servers and storage, the cloud has positive implications for Cisco, and storage is a natural stack extension for Cisco."
He says Cisco will seek a deeper level of IT stack integration;
Evidence for this may be seen in Cisco's acquisition of flash storage provider Whiptail in 2013, which it is now integrating into UCS (servers) for a high-performance storage capability, together with Cisco's recent decision to sell its stake in the VCE joint venture back to EMC (which sold Vblocks). This could signal that Cisco is interested in making more acquisitions in the storage space in the months ahead.
Summing up, Ader thinks "Combining UCS with its own storage technology makes both strategic and financial sense, in our view."
Other well-placed industry players from the cloud adoption point of view, as well as customer focus on data security and application availability, are Aruba, Barracda, F5 and Ruckus, Ader believes.
Potential acquisition targets
The William Blair analyst fingers Arista, CommVault, Juniper and Nimble Storage as potential buyout candidates. (This was written shortly before Juniper abruptly fired its CEO for unseemly practices, which should increase pressure on Juniper. The exited Kheradpir was appointed 10 months ago partly as a result of activist investor Elliott Management pressure.)
(Check the IT system suppliers strategic matrix table above.)
Whether Cisco will buy one or more of these companies is obviously open to question. Much might depend on a retirement schedule for Cisco CEO John Chambers. In 2012 he indicated he might go in the 2014-2016 period, so there are a couple of years left yet if he feels a restructuring itch.
We've only summarised Ader's paper here. Contact William Blair to find out how to read the whole thing. ®