Parisienne walkways
Without doubt, Unity's biggest achievement is the recreation of Paris itself. And it's hardly going out on a limb to say that this ranks amongst the most beautiful games I've seen. Sure we can endlessly debate the outrage of there being no native 1080p resolution. But spec sheets aside, viewing this on TV from the couch is surreal. It's almost a shame that the game has you constantly on the move, as to stand still and simply soak in the city is an experience in itself.
Up, up and away...
Famous Parisian landmarks rise emphatically out of the streets, ludicrous draw distances let you see for miles around, and the throng of the city's crowds serve to create a sense of claustrophobia.
The game's eye candy even helped me overlook the paper thin plot that still maintains the series' insanity. Expect more on pre-cursor races, future conspiracies that intertwine with the past, and flip-flopping between the interests of Assassins and Knights Templar.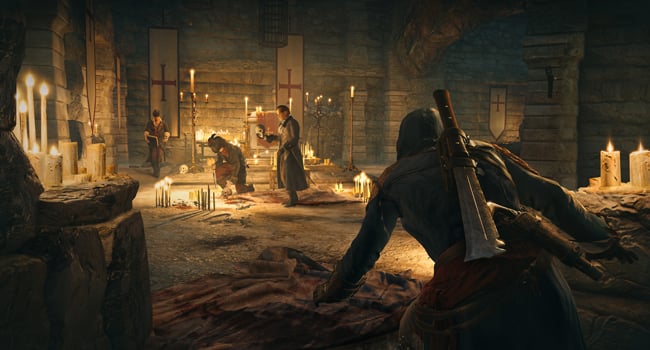 Templars templaring
Unity is also the first of the series to let you assassinate with friends. Though don't expect to be allowed to summon mates to help you beat tricky campaign missions as in Dark Souls. Instead, co-op is made up of a series of optional bespoke missions for two-to-four players.
I confess right now that more often than not my fellow assassins scattered into the wind and completed mission objectives without any real coordination. However, on the few times the opposite was true, I found the online play to be both challenging and rewarding, and it's something I want to continue to play once the game launches over here.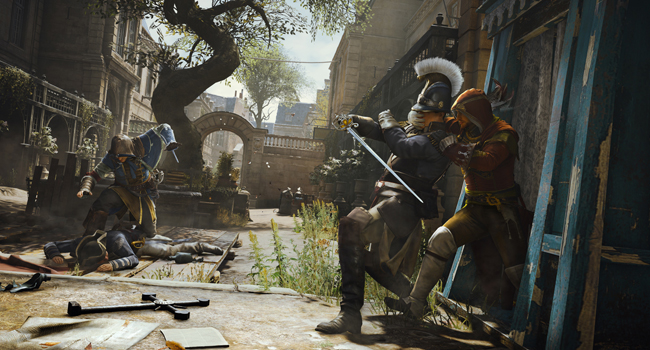 Stealth, coop style
The Reg Verdict
For those of us who've toiled through each and every Assassin's Creed title, there's no disputing the fact it's disappointing that Unity fails to completely address long-standing issues with plot, movement and stealth. Indeed, the company's share price tumble to a low of nearly 13 per cent in recent days is a kick up the derrière less easily ignored by Ubisoft than its customer complaints.
Still, if we suspend disbelief and focus on the positive, this is still the most ambitious and thrilling title of the series so far, despite being set in the franchise's most oppressive period yet. Unity won't convince those who've already tired of the series; for everyone else the bustling and bloody streets of Paris await, glitches notwithstanding.