This article is more than 1 year old
Post-pub nosh neckfiller: The MIGHTY Scotch egg
Off to the boozer? This delicacy might help mitigate the effects
It's been two years since we at El Reg's Special Projects Bureau brought hungry readers the last of our post-pub nosh deathmatches – a lively head-to-head featuring souse versus scrapple – and by popular demand we've decided to reheat the concept as part of Vulture Central's Weekend Edition.
To recap, the idea was to present grub suggestions for wobbly consumption after a robust night on the sauce, as a more hands-on alternative than simply rolling up at the kebab van, dribbling onto a waved fiver and demanding a heart attack rolled in pita bread.
So, having kicked off our voyage through the wonderful world of of booze-mitigating culinary delights with parmo and poutine, we navigated further haute cuisine including kapsalon and quesadillas, and Bauernfrühstück and bacon sarnies.
We also tackled the sensational Caledonian contribution to fusion cuisine which is the haggis pakora, and it seemed appropriate, then, to mark our return to the kitchen with another drool-inducer from north of the border – the mighty Scotch egg.
However, as the experts among you will know, this snack marvel isn't actually from Scotland at all, and probably not even "sturdily British", as Fortnum & Mason describe it.
The upmarket trough outlet claims to have brewed up the first Scotch egg in London in the 18th Century, although the Telegraph notes the fried ball of porky goodness bears a suspicious resemblance to nargisi kofta.
It's likely that the Scotch egg's appearance in Blighty is another tastily agreeable consequence of our involvement in India. How the Dutch got involved – in the shape of eierbal – remains a mystery.
So, it's onwards to the kitchen, and you will need ...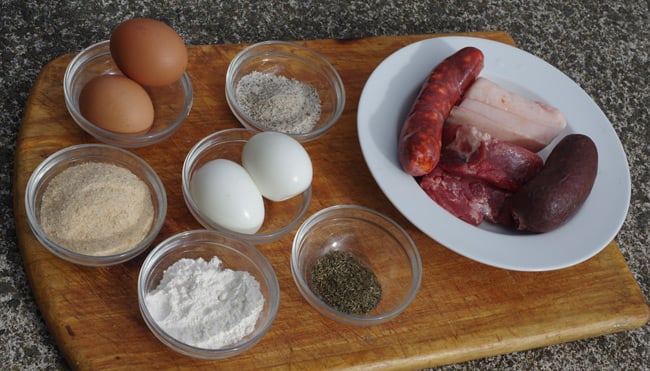 thyme
plain flour
breadcrumbs
boiled eggs
raw eggs
ground salt
black pepper
pork shoulder
pork fat
Optional extras: The Spanish chorizo and morcilla (black pudding) – of which, more in a bit
Before getting down down to it, I'd like to introduce the man tasked with tackling this recipe, my nephew Matthew Haines. As you can see, he's on temporary secondment to the SPB: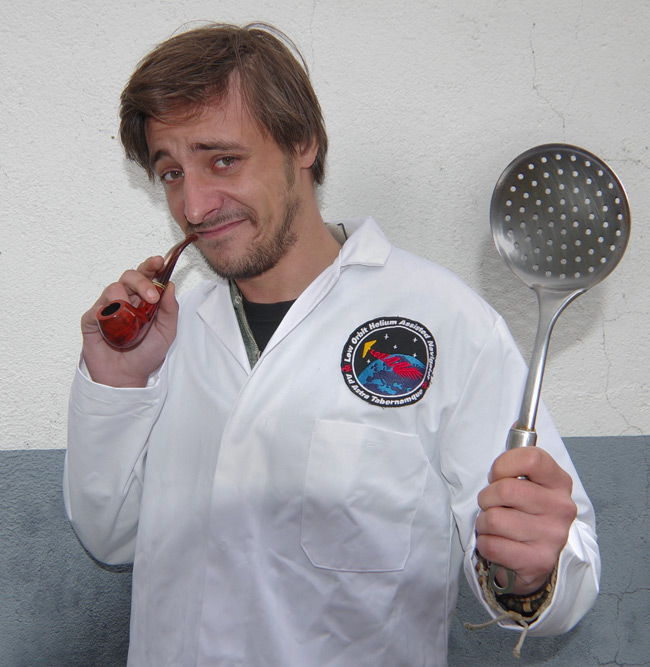 Firstly, tackle the meat for the casing. Ready-made sausagemeat works a treat, but we bought some pork shoulder, and got the local butcher to stick it through the grinder – twice – with the pork fat. For four Scotch eggs you'll need around 600g of meat to 200g fat.
Our casing mix is the ground meat mixed with two raw eggs, around 100g of breadcrumbs, and thyme, salt and pepper to taste. Here's the blow-by-blow guide: