Vid A tearful Rosetta comet probe boffin has apologized after he appeared on camera wearing a shirt emblazoned with half-naked buxom women.
Brit scientist Dr Matt Taylor wore the kinky attire during a live web video interview on Wednesday – as the world held its breath waiting for confirmation the Philae lander had made it to Comet 67P's surface. The Twittersphere duly exploded with anger.
"The shirt I wore this week … I made a big mistake, and I offended many people and I am very sorry about this," he said at a press conference to discuss the comet probe's progress on Friday. He then choked up, and put his head in his hands while Rosetta flight operations director Andrea Accomazzo gave him a supportive pat on the back.
Dr Taylor wore the risqué shirt on camera at the European Space Agency's headquarters, where he has spent years working on the Rosetta mission. He was accused of sexism and discouraging women from entering the space science field.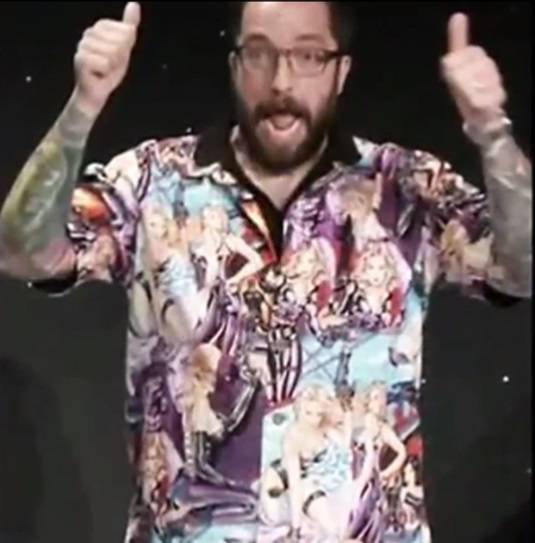 The shirt that caused all the fuss
Dr Taylor, a married dad of two, is brilliant and unconventional; he's not your standard-issue scientist: he once went to an official meeting with His Royal Highness Prince Andrew while wearing flip flops and a Hawaiian shirt, and at university played in a death-metal band called the Septic Willies.
He is heavily tattooed, with full sleeves on both arms and a Rosetta mission design on his right thigh – which he had done before the Philae probe has even landed on Comet 67/P.
London-born Taylor studied Physics at the University of Liverpool and got his PhD at Imperial College London. He works at the European Space Agency, and studies energetic particle dynamics in near-Earth space – and the interaction of the Sun's solar wind within the Earth's magnetic field. He has written, or co-authored, 70 academic papers, and was appointed the Project Scientist on the Rosetta mission.
"He is just being himself. In fact, he's probably even toned it down a little bit - one day he turned up to work with a red Mohican. Some people won't like it but what is wonderful is he is being himself ... he treats everybody the same," his mother told The London Evening Standard.
"It is nice to make science cool. He has made it fun and interesting. People are probably watching because he is a bit of a character."
After his apology the still-upset Dr Taylor, this time wearing a long-sleeved dark hoodie, went on to continue his briefing. Hopefully this apology draws a line under the issue. ®