Some members of Microsoft's Windows Insider program received yet another build of the Windows 10 Technical Preview this week, one that foreshadows more changes to the OS that should come as welcome news to those who cheered the return of the Start Menu.
The release, marked as Build 9879, is only available to those who have signed up for Redmond's "Fast" preview track, indicating that it may yet be more wobbly than the earlier Build 9860.
In fact, Microsoft graciously pointed out a few known trouble spots in its blog post announcing the new version. Among the doozies, users will not be able to connect to shares based on Microsoft's Distributed File System, and their Windows system folders could grow by 20GB or more because of hardware driver duplication.
The new update does bring some important changes, though, along with the usual slew of UI tweaks as Microsoft tries to figure out to what degree its redesign ideas will enrage veteran Windows users.
OneDrive does a U-turn
The most significant changes in the new build relate to how Windows integrates with Microsoft's OneDrive cloudy online storage, which is a major shift from how it worked in Windows 8.1 and suggests Redmond's continued retreat from its hard-sell approach to Windows Store apps and the Modern UI.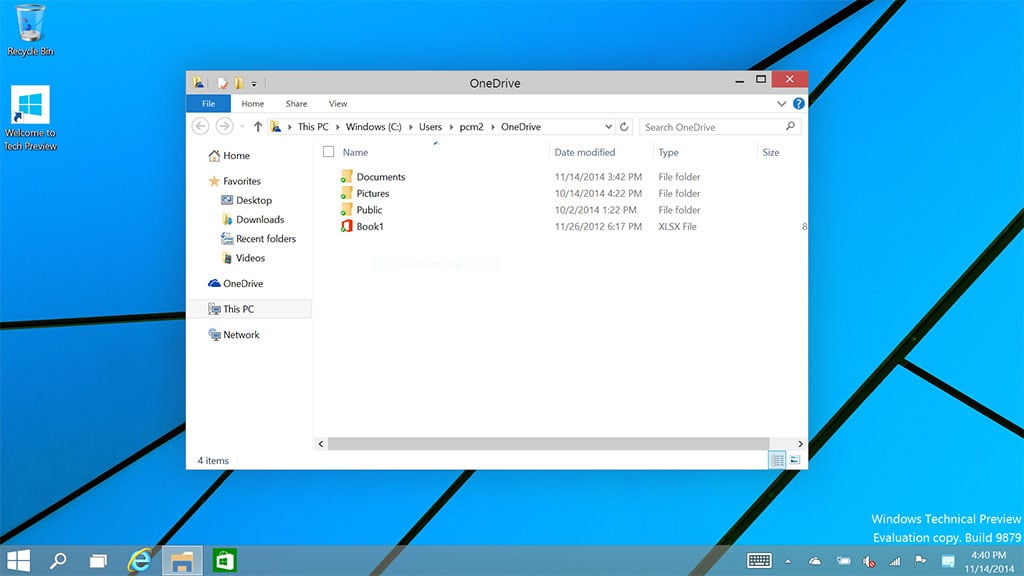 Easy learning curve: Windows 10 Preview's new OneDrive UI has a familiar feel (click to enlarge)
Windows 8.1 doesn't synchronize files from OneDrive with the local file system by default. Instead, you're shown icons that look like files but are really placeholders, and the actual files are only downloaded when you try to use them, or if you select "Make available offline" from the contextual menu in File Explorer. This was confusing, awkward, and occasionally infuriating for almost everybody, and Microsoft has finally gotten the message.
As of Build 9879 if the Windows 10 Preview, the OneDrive sync behavior has rolled back to how it was pre-Windows 8.1, where your local files simply sync with the cloud, like you expect them to. If you have less than 500MB of files on OneDrive and your Windows device has "enough space" – how Microsoft determines this isn't clear – all of your files will sync automatically. Otherwise, you can select which folders you want to sync and which should stay in the cloud from the OneDrive settings panel.
An even bigger change, though, is that the new Windows 10 Preview does away with the OneDrive Windows Store app. In Windows 8.1 you have two ways to view your cloud storage: as files and folders in the familiar desktop File Explorer windows, or via a Modern app that launches from the Start Screen. Windows 10 Preview drops the app and just has you browse your OneDrive files the old-fashioned way.
The significance of this is huge. Taken together with the return of the Start Menu, it suggests that Microsoft has finally recognized what everybody else has known all along, which is that almost everybody running Windows 8.1 spends most of their time on the desktop, rather than using the Start Screen. In fact, the desktop is now the only way to access OneDrive files, other than via a web browser.
What this change means for the future of Windows RT – which tried its hardest to steer users away from the desktop by refusing to run any software but Microsoft Office and Windows Store apps – remains to be seen.
Some spit here, some polish there
The build brings a number of other changes, too, although most of them are pretty ho-hum.
There are a bunch of new three-finger navigation gestures available on machines that have precision touchpads, which are a new type of touchpads designed specifically for Windows 8.1 that most of us probably don't have.
The preview version of Internet Explorer has also been given "smiley face/frowny face" feedback buttons in its menu bar, a trick Microsoft last used for the preview builds of Office 2013.
There's also a new Insider Hub app where testers can supposedly find all relevant information about the Windows 10 Preview program, but it didn't seem to think we were registered with the Windows Insider program and wouldn't show us anything (even though you have to be registered to install Windows 10 Preview in the first place).
More interesting is Windows 10's support for the Matroska video file format (.MKV files), which is notable for being the favored format for videos posted to file sharing networks and illicit download sites. Redmond snuck preliminary MKV support into Build 9860, but in Build 9879 the files can be played by Windows Media Player and other apps and the OS will even generate thumbnail images for them. Support for the H.265 HEVC codec has also been added, and Microsoft says there's more to come on the A/V front.
A lot of bugs that caused machines to crash or hang with earlier builds have also been fixed, which should make Windows 10 Preview a lot more stable for testing, from here on out.
In Search Of ... ISOs
As with previous Windows 10 Preview builds, Build 9879 is delivered via Windows Update, so fast-track Windows Insider members should receive it automatically. If your machine hasn't got it yet, you can also force the update from the "Update and recovery" PC Settings pane.
Microsoft also says it will begin offering ISO images of Preview releases, in response to feedback from testers. Because it prefers that you use the Preview Builds function, though, it only plans to release an ISO of a build once it reaches the Slow release track – which means you'll have to wait a while before the first one ships. ®